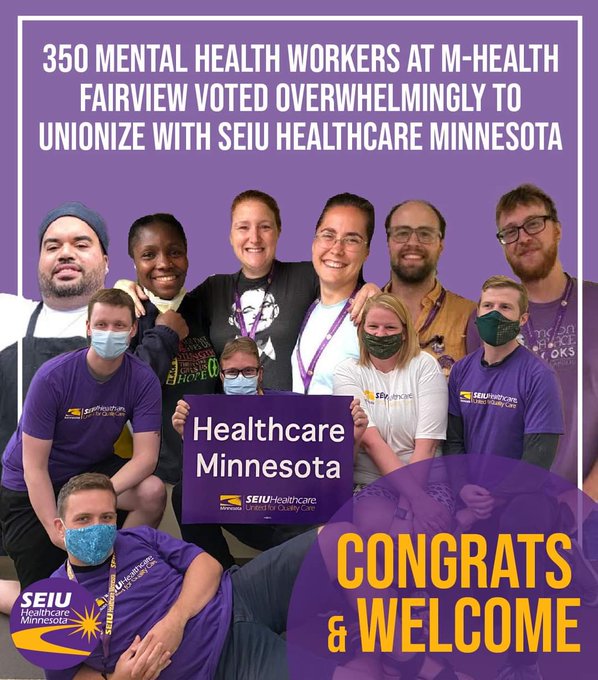 Share
After landslide union election, M Health psych staff ready to bargain for wages, safety
|
Share
A resounding "union yes" vote, announced today, gives 350 psychiatric associates at M Health Fairview momentum as they look to negotiate better wages, safety protections and a voice in decisions that affect their jobs.
SEIU Healthcare Minnesota, which backed the essential workers' organizing drive and will represent them in bargaining, said 98% of participating workers voted in favor of unionization. Balloting took place by mail, with votes counted earlier today.
Psychiatric associates have been discussing the idea of forming a union for at least 10 years, union supporters said in a virtual press conference held hours before the vote tally. Eric Immler, who works in M Health Fairview's adult inpatient units, said his excitement was "hard to put into words."
"Having a seat at the table, feeling respected is going to allow me to better focus on my patients and collaborate with my co-workers – and [retain] good employees," Immler said. "We hope Fairview comes into negotiations after we certify our union realizing how serious we are and in good faith."
Like many workers forming unions recently, M Health Fairview employees said the COVID-19 outbreak gave their campaign a sense of urgency. Senior psychiatric associate Andrea Rivas described working in small, confined areas with patients who sometimes refused to wear masks, and uncertainty over access to personal protective equipment.
But Rivas and her colleagues also pointed to increasingly dangerous working conditions in their field. Health care workers account for the majority of all nonfatal workplace injuries in the U.S., and injury rates are highest among workers in psychiatric and substance-abuse facilities.
Rivas is still dealing with the effects of a concussion she suffered nearly eight months ago, when she was "punched repeatedly" after rushing to the aid of a co-worker who was being assaulted. Erin McCormick, who works at M Health Fairview's intensive treatment center for children, said people in her line of work are "in constant fight-or-flight mode" and burn out quickly as a result.
"During my time, I've been head butted and spent the night in the ER," McCormick said. "While I was pregnant, I also got punched by a patient. Luckily, I turned at the last second and the patient punched my arm, but I was constantly worried about my baby's health."
To reduce violent incidents, workers said, they will bargain hard for contract language that requires safe staffing levels and puts preventative protocols in place, both before and after violent incidents.
The fledgling unit also hopes their first contract not only will raise wages, but ensure equitable pay. During their organizing drive, McCormick said, psychiatric associates discovered a pay gap between men and women.
"Having an open conversation about pay and a contract where everything is formalized will help to address these issues," she said.
SEIU Healthcare Minnesota already represents nearly 2,000 workers in the M Health Fairview system. Psychiatric associates will build their own contract, SEIU Healthcare Minnesota said, that addresses the professional needs of the "most patient-facing staff in the mental and behavioral health field."
Rivas said she believes giving psychiatric associates a seat at the table will be good not just for workers, but patients too.
"We interact closely with patients during their entire inpatient treatment," she said. "Despite our close contact, we are left out of important meetings, and our opinions aren't asked about patient concerns. This not only feels disrespectful, but it also means we are missing out on important information that could affect our clients."
"Mental health is so important, but our society doesn't seem to value it or the work done to help support those in crisis," McCormick added. "We're joining together in our union to help show that our patients and this work is important."