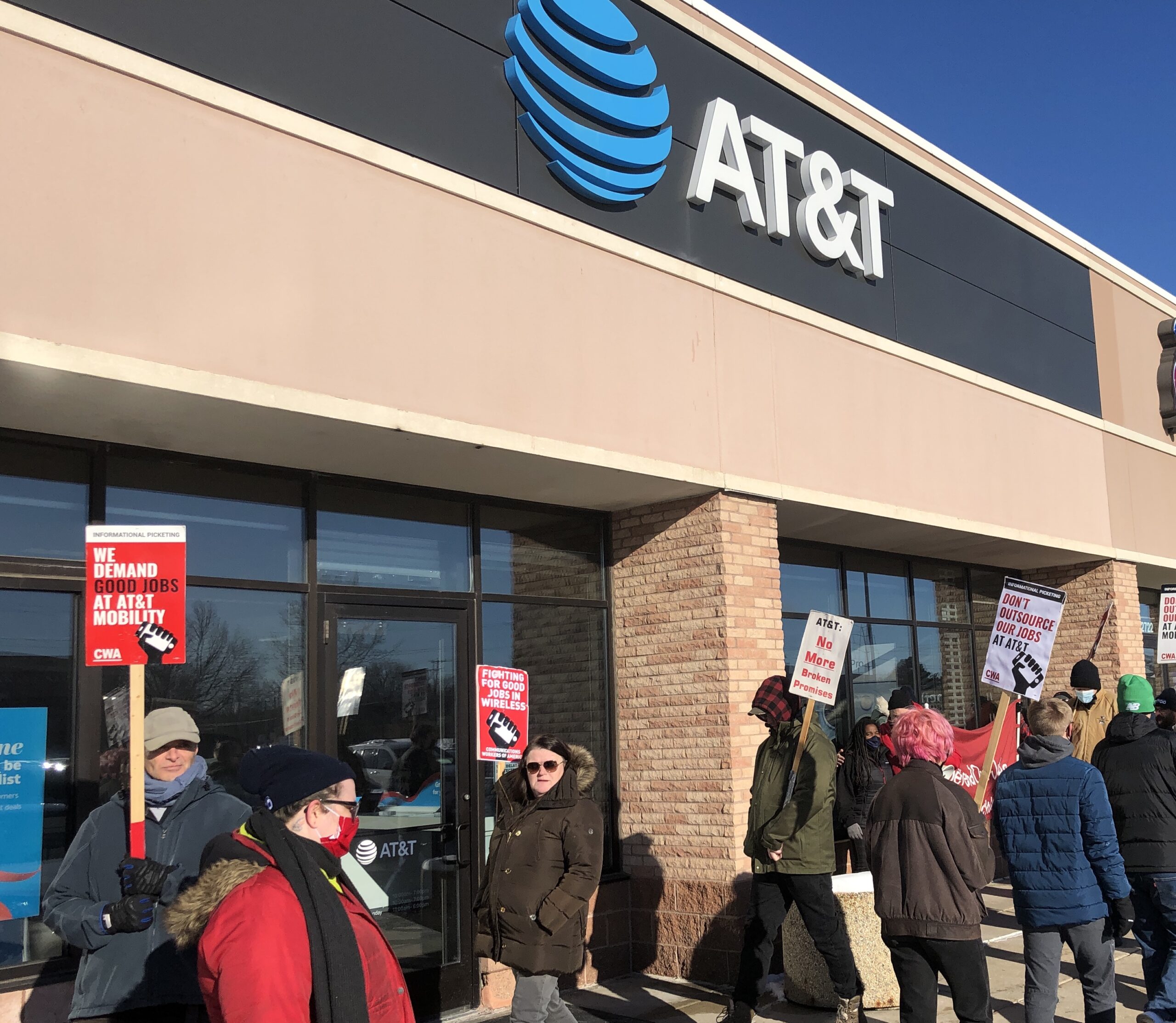 Share
Don't be fooled by AT&T's authorized retailers, CWA members warn
|
Share
After a push from union members in Minnesota, the Communications Workers of America is stepping up its campaign to fight back against job cuts and union busting at AT&T retail stores nationwide, asking supporters to do business with stores that employ CWA members.
AT&T workers were in the streets outside dozens of "AT&T authorized retailers" across the country last weekend, including stores in St. Cloud and Roseville. The actions drew attention to the company's recent move convert corporate-owned stores, staffed by CWA members, to third-party dealers.
That's union-busting, said Kieran Knutson, president of CWA Local 7250, which represents AT&T wireless sales reps, technicians and call-center employees in Minnesota.
"It's an attack not just on our union and on the working conditions in those stores, but also on the communities because there are less union jobs available," Knutson said during a protest Saturday outside the authorized retailer in Roseville. "We're not going to let them off the hook for that."
AT&T has closed or converted more than 650 corporate-owned stores in the last two years, including 12 of 36 stores in Minnesota. The cuts have come despite AT&T's promise that then-President Trump's 2017 tax cut, which put billions into the company's coffers, would create new jobs.
Local 7250 authored a resolution, passed by the CWA at its international convention in October, calling for the day of action against AT&T's job cuts, held Saturday during the holiday shopping season.
The union also has launched a campaign to help AT&T customers tell the difference between union and non-union stores, which look alike except for a small sign on the front indicating which are authorized retailers.
Union stores in the east metro include Burnsville, Maplewood, St. Paul (Highland Park) and Woodbury. Find a complete list of union stores nationwide at CWA.org/ATTstore.
Union members and supporters all but shut down the AT&T authorized retailer in Roseville for nearly two hours Saturday, marching outside the storefront with signs and distributing fliers in the parking lot.
The store used to be staffed by union members, Knutson said, but recently closed and reopened as an authorized retailer owned by Prime Communications. That company's leadership includes several former AT&T executives.
"The sole purpose of Prime Communications is to franchise AT&T retail stores, to turn them from union into non-union stores," Knutson said. "It's not like they also franchise Verizon; they are purely a creation for union-busting."