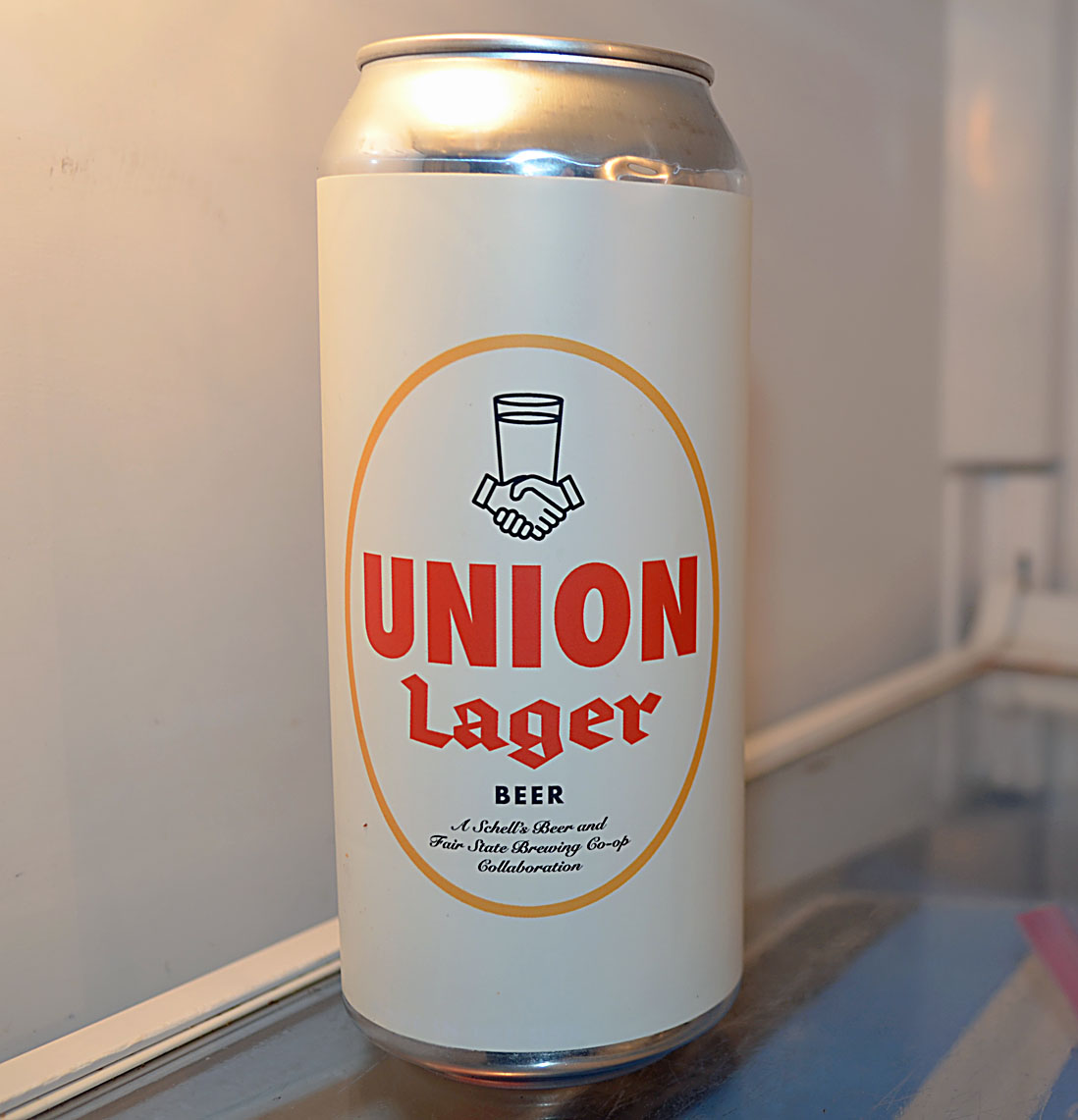 Share
Minnesota's oldest and newest union breweries have teamed up to craft a beer celebrating solidarity in the workplace.
Union Lager is a collaborative brew by Fair State in the Twin Cities, where workers formed a union with UNITE HERE Local 17 last summer, and August Schell in New Ulm, where union members have been brewing beer since the 1930s. They currently are represented by the Steelworkers union.
The beer is crisp and moderately hoppy – a "crusher," Fair State says on its website. Local 17 member Ian Sutherland, who uses plural pronouns, said the Union Lager is moving steadily in Fair State's northeast Minneapolis taproom, where they work behind the bar.
"It's beautiful," Sutherland added. "It's a good blend of hoppy and malty. It has a little of the hard-water profile, a little minerally. It's a very good sessionable lager."
Crafting lagers is a passion shared by the brewers and friends behind the collaboration, Fair State's Niko Tonks and Schell's Jace Marti.
When he saw the news Fair State workers had unionized last September, Marti quickly fired off a text message to Tonks. "I said congratulations on being unionized," Marti said. "Let's do a collaboration."
It's not often management celebrates its workers' decision to form a union, let alone markets a new product around the news. But Fair State's historic union drive was unique from the start.
Organizing was already afoot when Sutherland began bartending in June of last year. Within three months, enough workers at the taproom and Fair State's St. Paul brewery were on board to petition management for voluntary recognition of their union, which they did the morning after Labor Day.
"Our brewer is kind of a neighborhood brewery now, but it's starting to do some national distribution," Sutherland said. "Our thinking was maybe it was time to cement some power in a union as we start to make the trek toward a larger-scale brewery."
Fair State's chief executive, Evan Sallee, immediately embraced the idea, Sutherland said. A day later, after consulting with the board of member-owners, Sallee celebrated Fair State becoming the nation's first unionized microbrewery in an open letter on the cooperative's website.
Sutherland said workers have been pleasantly surprised to see their union "become so integral" to Fair State's identity. "It's a cool thing that cements our place in the workplace," they said.
Even better, Fair State has backed up its branding both at the table and on the shop floor.
Progress toward a first contract covering the union's 20-plus members has been steady. Sutherland credited Local 17 Secretary-Treasurer Sheigh Freeberg with "playing the role of advocate for us and educator for both sides" as Fair State workers and managers familiarize themselves with the process.
The question everyone is trying to answer in bargaining, Sutherland said, is how to balance "the nimbleness required of a craft brewery" with a union contract.
"That's the challenge, but it's definitely headed in a direction that feels really healthy," Sutherland added. "People are realizing if you want something to change, we have real power to try to make that happen."
Whether the Union Lager will be available for a toast to Fair State workers' first contract, whenever it's settled, remains to be seen.
The two breweries developed their own batches and labels for the beer. Fair State's product hit shelves first, and Tonks, Fair State's founding brewer, said liquor stores snatched up their local distributor's allotment in about a week.
"That's fast," Tonks laughed. "Response has been strong, and it's pretty much gone."
Fortunately for anyone who missed out, Schell's batch should be ready for sale sometime this month. And Tonks said both brewers are looking for an excuse – contract ratification, perhaps? – to brew it again.
Marti said he isn't surprised by the Union Lager's success. The collaboration seemed to him charmed from Day 1, when he and Tonks decided to take their inspiration from the Westphalian Pale Lager, a German beer made famous by the now-defunct Dortmunder Union Brewery.
"It was known as a hard-working beer, a blue-collar drinking beer," Marti said. "It all fit perfectly."
*****
Want to talk about organizing your workplace with someone who's done it recently? Sutherland and other Fair State unionists welcome the opportunity! Get ahold of them at fairstateunion [at] gmail [dot] com.