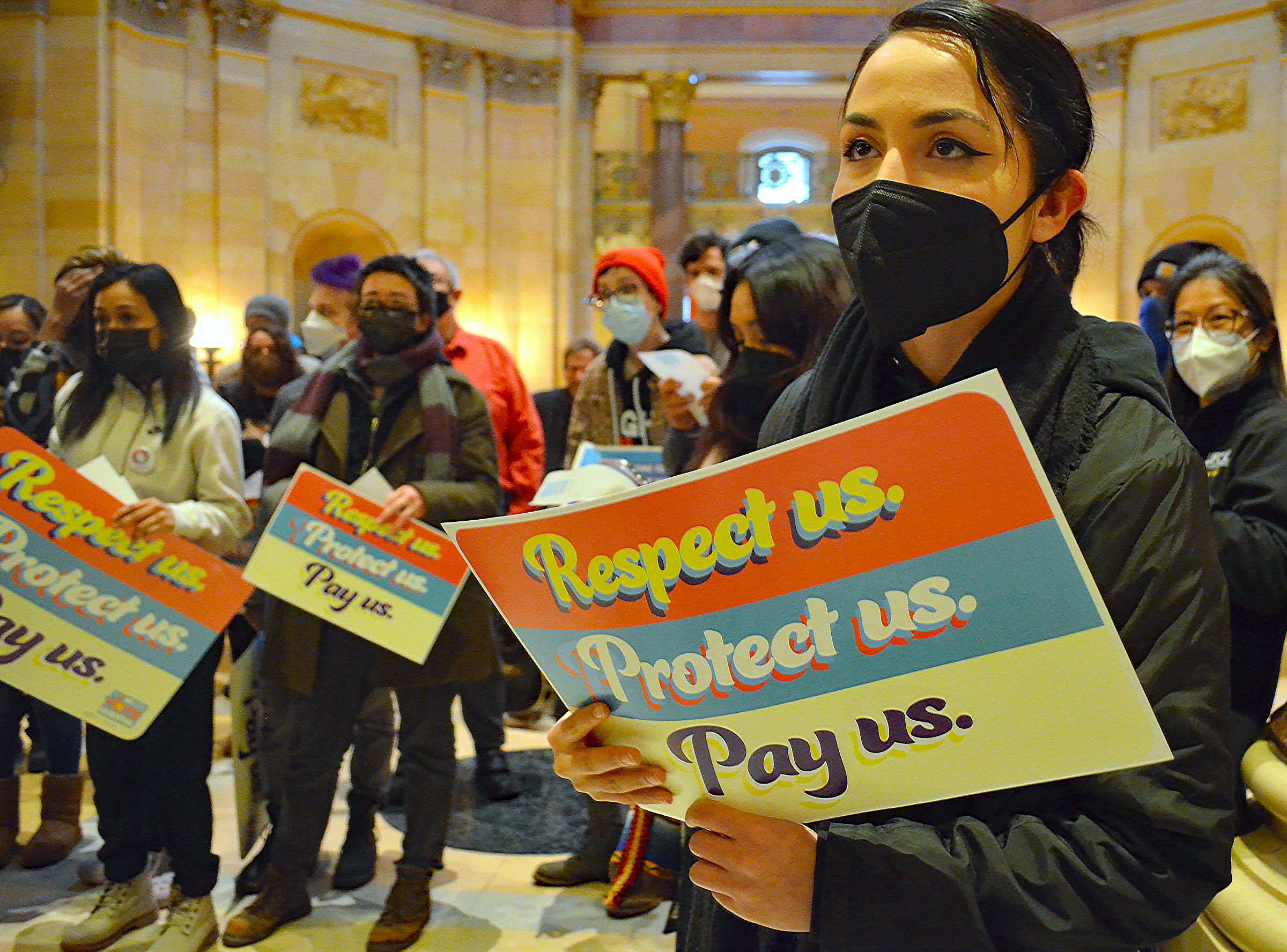 Frontline Worker Protest
Frontline Worker Protest
Share
Frontline workers' focus turns to Senate after House passes bonus pay
|
Share
The Minnesota House passed union-backed legislation Thursday that would deliver bonuses of up to $1,500 to the frontline, essential workers who have kept the state and its economy running during the COVID-19 pandemic.
Unions representing nurses, food-production workers, janitors, public employees and other workers called on Republicans who control the Senate to follow House members' lead and take up the $1 billion measure, which would tap into the state's projected $7.7 billion budget surplus.
"When everyone else was locked down safely in their homes, we were out there doing our job, and we continue to do our job," Minnesota Nurses Association President Mary Turner, a nurse in the North Memorial intensive care unit, said during a press conference in advance of the House vote. "We deserve a little bit of recognition."
Turner's message to members of the Senate: "Do what is right to honor us and the work we did and that we continue to do."
If the House bill becomes law, an estimated 667,000 Minnesotans would be eligible for payments.
The measure limits eligibility to workers who logged at least 120 hours in frontline positions between March 15, 2020, and June 30, 2021. It also would restrict workers who collected more than 20 weeks' worth of unemployment benefits from accessing the funds.
But the bill faces an uphill climb in the Senate, as Republicans have sought to carve out a much narrower slice of frontline workers eligible for pandemic bonuses since debate over the issue began last summer.
In July, Minnesota lawmakers agreed to create a $250 million fund to compensate essential workers, but a bipartisan working group failed to reach an agreement on which workers should be included.
Republicans blocked any plan that did not narrowly target health care workers, first responders, long-term-care workers and correctional officers. But Sen. Erin Murphy, a DFLer from St. Paul, called it "unconscionable" to exclude food-processing workers, custodians, child care providers and others on the front lines.
"There are so many people who did their part, and today the Republicans are serving as a roadblock to recognizing their unique contributions at a time when they continue to put themselves in harm's way," Murphy said. "It's time for the Senate Republican majority to get off the dime and to do their work."
As lawmakers debated the bill on the House floor last night, frontline workers rallied outside the chamber. Members of a coalition of unions and other worker advocacy groups pledged not to be divided as they push for legislation that recognizes the sacrifices of all Minnesotans who showed up to work.
"Other frontline workers supported us inside and outside the hospital," Turner said, looking back on the early days of the pandemic. "At least I had one N95. They had nothing."
"I thank you as a Minnesotan for what you've done to allow myself and my family to stay safe, but also have the services we need to continue moving forward – and I know that all Minnesotans appreciate you as well," said Rep. Cedrick Frazier (D-New Hope). "I am imploring our senators on the GOP side to move this bill forward…
"Let's get together, let's get it passed and let's honor all of our essential workers."