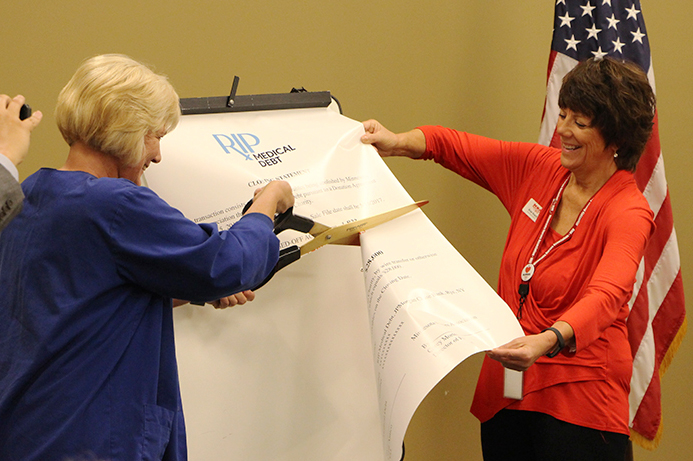 Share
Nurses buy – and forgive – $2.6 million in medical debt for Minnesotans
|
Share
Twin Cities community members overwhelmingly supported Allina nurses during their historic strike last year. On June 19, members of the Minnesota Nurses Association offered a thank-you gift for that support, purchasing and forgiving the past-due accounts of 1,800 families facing a combined $2.6 million in medical debt.
MNA, a union of more than 20,000 registered nurses, located and acquired the accounts with help from RIP Medical Debt, a New York-based non-profit. Like a collection agency, the organization buys medical debt at a fraction of its value.
Rather than aggressively pursuing the debt it purchased, though, MNA immediately forgave it.
"Nurses are happy to allow these families to be free of their debt," MNA President Mary Turner said. "They've had this medical debt hanging over their heads for two years or more. It's cost them their credit, pushed them toward bankruptcy and hurt them in so many ways."
MNA paid $28,000 for the $2.6 million balance.
Names and other details regarding the forgiven accounts will remain private, but one Minnesotan struggling to pay down medical debt, Debra Puchala, agreed to tell her story during a press conference at MNA's headquarters in St. Paul this morning.
After undergoing hip replacement surgery in September 2015 and shoulder surgery the following year, Puchala owes various medical providers more than $5,000.
"The bills kept coming," she said. "When you have surgery, you know, you get more than one bill, and … everybody wants their money right away. I was told that I was going too slow."
One of her six bills wound up in collection, and as a result, Puchala said, "I can't make a regular medical appointment. I have to go to either urgent care or, if it gets bad, emergency."
In January 2017, faced with the prospect of tacking on another $5,000 to her debt load before reaching the insurance plan's deductible, Puchala dropped out of her physical therapy regimen, and she continues to put off knee replacement surgery, she said, "because I can't take on the debt."
MNA has long derided the U.S. health care system for forcing patients like Puchala into consumer decisions that pit their wellness against their other needs, like food and rent.
Medical debt is the No. 1 cause of bankruptcy in the U.S. Past due accounts to health care providers are cited in 62 percent of bankruptcy cases, and bad debt to medical providers is expected to top $200 billion by 2019.
"Medical bills are now the No. 1 reason people are contacted by debt collectors," Minnesota Attorney General Lori Swanson said at the MNA press conference. "Even people with health insurance face unpaid medical bills due to the very high deductibles in many insurance policies.
"The Minnesota Nurses Association is generous to have relieved people from the weight of this debt."
The union was inspired to acquire Minnesotans' medical debt after several members watched a report on HBO's "Last Week Tonight with John Oliver" about RIP Medical Debt.
"We'd had many discussions about how to repay the community for what they gave nurses during the strike," Turner said. "The John Oliver show inspired us, and we decided to see if we could do the same thing. MNA is grateful to RIP Medical Debt for helping us make this happen."
About 5,000 MNA members who work at Abbott Northwestern, Mercy, United and Unity hospitals and Phillips Eye Institute spent nearly a month and a half on the picket line last year in a campaign to keep their high-quality health insurance, improve workplace safety and protect patients from staffing shortages.