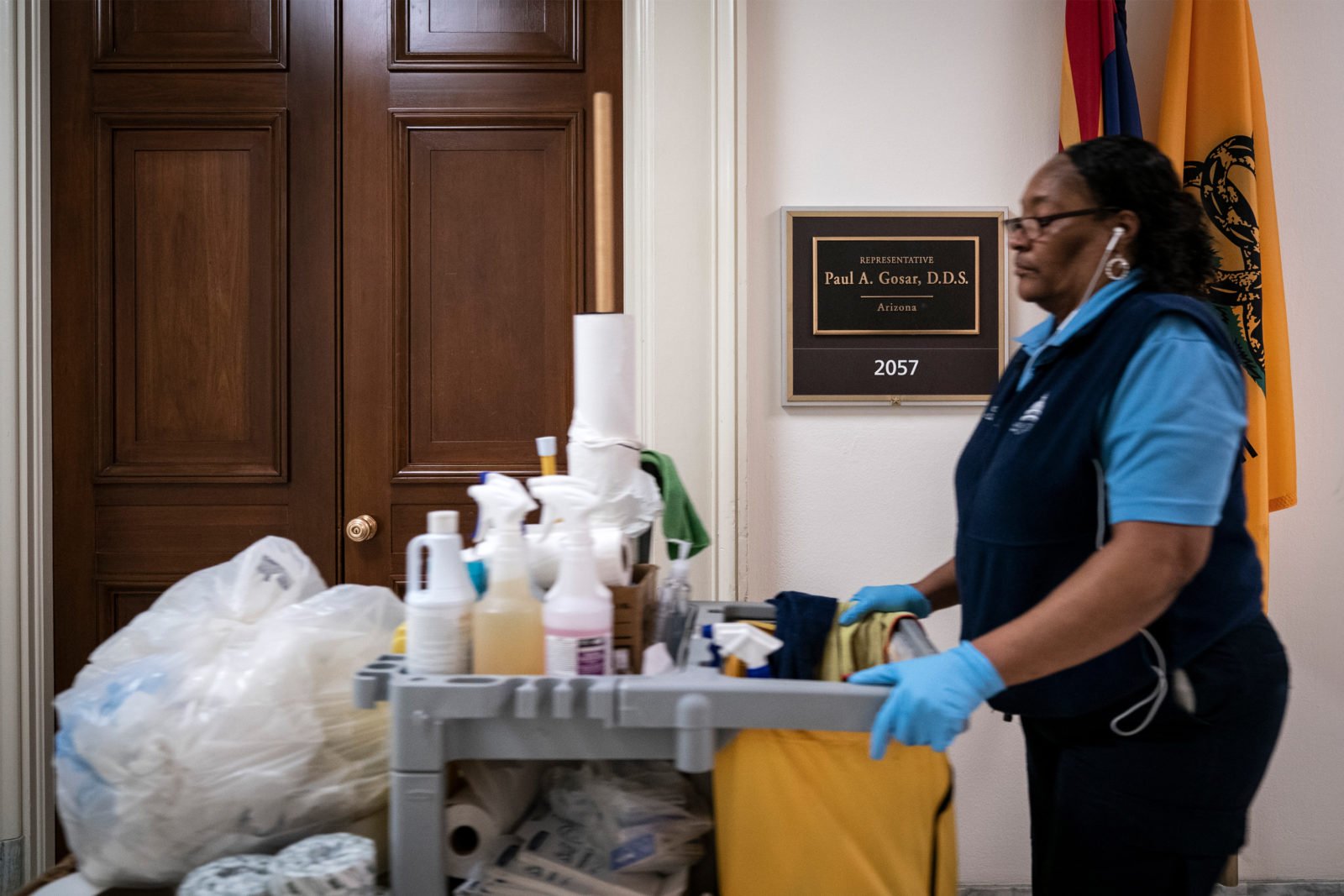 A federal worker outside the closed Capitol Hill office of Rep. Paul Gosar, who placed himself in self-quarantine. (Drew Angerer/Getty Images)
Share
State Locks Down for COVID-19
|
Share
As the Labor Review went to press, Minnesota Governor Tim Walz issued an emergency "stay-at-home" order in an attempt to slow the spread of the growing coronavirus pandemic.
The order runs from March 27 through April 10 and directs that all non-critical businesses cease operations and that workers stay home.
The order exempts the construction industry and also allows grocery stores to continue to operate, as well as pharmacies, and other essential services.
The "stay-at-home" emergency executive order was latest in a series of executive orders issued by Governor Walz to address the growing public health crisis, including shutting down schools, closing theatres and bars and other places for public gatherings, as well as restricting restaurants to offering only take-out food.
Walz's executive orders, together with other business closings and slow-downs, have put tens of thousands of Minnesotans out of work.
Union members working in Minnesota's hospitality and entertainment industries have been particularly hard-hit
At the same time, other union members will be on the front lines as the number of people sickened by COVID-19 grows.
"It's the nurses and the healthcare workers who are marching into battle," said Mary Turner, president of the Minnesota Nurses Association. Nurses have sounded an alarm about the lack of personal protective equipment for health care workers and a lack of preparedness by the state's hospitals.
Union members not in the health care field but who interact closely with the public also suddenly have found themselves on the front lines of the COVID-19 public health crisis.
Grocery store workers, in particular, have emerged as unexpected heroes as they stay on the job during this unprecedented public health crisis to keep shelves re-stocked while Minnesotans stock-up on food supplies to weather the stay-at-home order and minimize their own public contact.
Janitors, bus drivers, letter carriers and human service workers who can't retreat with their laptop computer to work from home also are on the front lines of providing essential services to the public — while at risk to their own health.
The unions representing workers still on the job, as well as unions representing workers who have been laid-off, have been advocating with employers and government at all levels for increased worker safety protections and for increased income protections (see stories in "Local Union News," pages 9-10).
The Minnesota AFL-CIO, urging that the state "leave no worker behind," sent a letter to Governor Walz March 19 outlining emergency policy priorities.
The letter included calls to protect frontline workers' health, provide full wage support for all working people, continue pay for hourly school workers if schools remain closed, and mandate emergency time off.
In addition, the letter by Minnesota AFL-CIO president Bill McCarthy and secretary-treasurer Brad Lehto urged that the crisis "shouldn't be an excuse to relax labor standards. Do not allow rollback of any labor rights or protections."
(At the federal level, meanwhile, the Trump administration suspended all labor union representation elections, rolled back personal protective equipment standards related to COVID-19 and even relaxed rules for polluters, citing the coronavirus crisis).
Governor Walz, for his part, has taken strong action to protect working families through his emergency executive orders.
Walz made unemployment insurance available to workers experiencing job loss or reduced earnings due to COVID-19 disruptions and also waived the normal one-week waiting period before workers can file for unemployment.
Walz also issued an executive order to ban evictions and ask lenders to halt foreclosures.
With schools closed, Walz also issued an order to provide free childcare for workers in critical industries.
In addition, March 27 Walz agreed to add grocery workers and food processing workers as Tier 1 critical workers so they could gain access to free childcare.
United Food and Commercial Workers Local 663 president Matt Utecht, who had helped lead the effort to win this designation, applauded Walz's action.
Walz ran for Governor with labor endorsement and the state's labor unions have largely supported his actions in response to the COVID-19 crisis.
At press time, both the state and federal government had just approved emergency spending measures to address the growing public health crisis and economic crisis.
Still, by the time you read this, a disaster of epic proportions could be raging across the U.S. — and here in Minnesota.