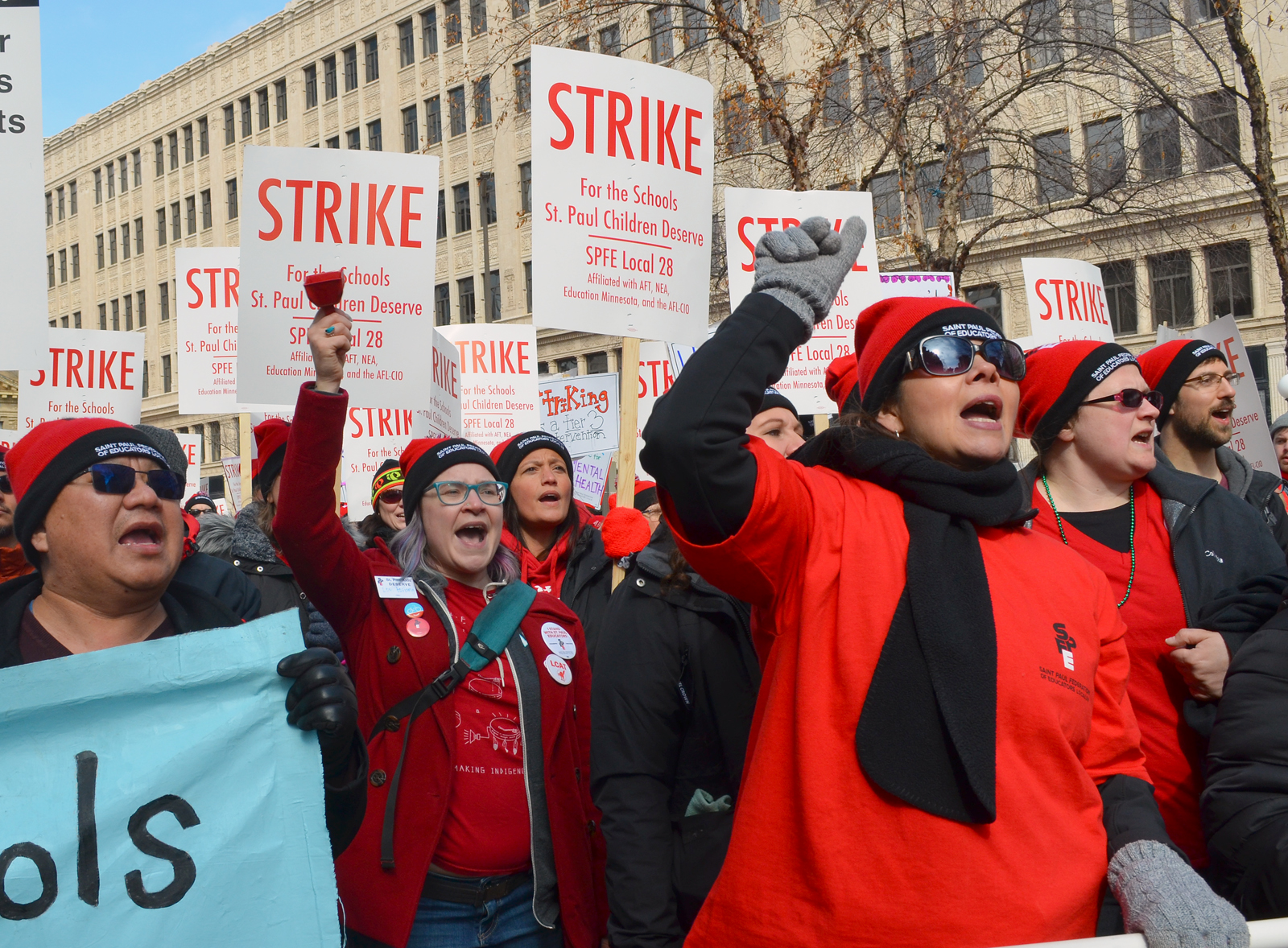 Striking SPFE members lead a march through downtown St. Paul Wednesday.
Share
Strike Ends, But Educators Vow to Fight on for Public Schools
|
Share
St. Paul educators set out last May to bargain a contract in the public good. When they went on strike this week, the public was right there standing with them.
On the picket line and social media, at union rallies and in the streets, public support poured in for the 3,600 members of the St. Paul Federation of Educators, who went on strike Tuesday morning to demand the district take action on their student-centered contract proposals.
The strike ended Friday, after negotiators for SPFE and the district reached an early-morning tentative agreement on new two-year contracts that will begin to address union members' concerns.
The agreement would commit the district to hiring more staff to support students' mental health needs and assist multilingual families. It would expand the district's restorative approach to discipline, create more manageable workloads for special-ed teachers and raise SPFE members' wages.
Nick Faber, the union's president, refused to discuss how much money the district committed to the new agreement until it had been shared with members. But Faber did say educators would have pushed for more were it not for the coronavirus pandemic — and the district's willingness to use potential school closures as leverage to force a settlement.
"Our teachers were ready to stay out … to get all of the supports our students need," Faber said. "Had it not been for the coronavirus, we would have been able to do better."
Schools will reopen Monday, but union members reported to their buildings for work this afternoon, bringing an end to a historic week of activism and solidarity in the capital city, which saw its first teacher strike in 74 years.
Each morning from Tuesday to Thursday, SPFE members put up picket lines outside their school buildings, drawing a steady chorus of honks from passing vehicles. Each day after picket lines came down, educators came together for an afternoon rally and march through the streets.
Their ranks swelled with parents, students, elected officials, labor leaders and other community members inspired by SPFE's campaign "for the schools St. Paul students deserve." Together, they turned parts of the city into a sea of red, marking the latest stop in the nationwide #RedForEd fight to fund public education.
It's what happens, St. Paul Regional Labor Federation President Kera Peterson said, when you bargain for the common good.
"We know what you guys are fighting for, and we're with you every step of the way," Peterson, whose organization represents 100-plus local unions with over 50,000 members, told educators during a massive rally in Rice Park Wednesday.
With school cancelled, students flocked to union events as an opportunity, Harding junior Paris Smoot said, "to show student voices are also very powerful." Her classmate Ashanti Williams said it's inspiring to see students and educators joining together "to make a change and create a better environment for people."
Many students carried signs supporting the union's efforts to funnel more resources into mental-health supports for themselves and their schoolmates. Smoot, who attended the rally Wednesday, said she experienced depression and suicidal thoughts last school year.
"I didn't even know Harding had a therapist," Smoot said.
Faber acknowledged the new contract, if ratified by members, won't fix every problem they set out to address. But educators are going back to work "ready to keep fighting for their students," he said.
"That energy, we've heard from our members already this morning, they're not putting it away," Faber added. "It's not going back in their pockets."
More, union leaders hope the strike — and the public support union members received — delivered a message to board members and administrators that they won't get away with ignoring educators' concerns.
"People were out in the rain for this," bargaining team member and science teacher Todd Marder said. "The power of that was just heartwarming and touching. Thank you."