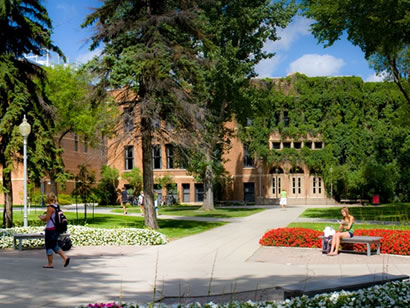 Faculty and staff at Minnesota State University Moorhead (MSUM) are bracing for massive and unprecedented potential layoffs leading to the closure and reduction of departments, primarily in the humanities.
Kim Park Nelson, a retrenched or laid off faculty member at Moorhead and Equity and Inclusion Coordinator for Inter-Faculty Organization (IFO) – the union representing faculty in the Minnesota State system- observed that these layoffs portend "a plan for the future at Moorhead of no liberal arts" adding that she is "alarmed as a faculty member of an American university"
On April 15th Minnesota State University Moorhead administration shared a proposed budget plan designed to close a projected gap of $6 million in Fiscal Year 2022. "The plan represents reductions in expenses of approximately 10% of the University's operating budget." Furthermore, "While the COVID-19 pandemic has presented additional challenges, the budget shortfall is not a direct result of the state's stay-at-home order."
The shortfall is a consequence of state funding reductions and a decline in enrollment. MSUM had already initiated a hiring freeze last fall. According to faculty Workday spoke with, a decline in enrollment has been an ongoing problem.
The IFO released the following statement in response to the proposed layoffs at MSUM.
MSUM IFO Faculty Association President Matt Craig and said,
"We will push the President to reverse as many of the announced layoffs as possible before they go into effect. These layoffs will fundamentally weaken MSU Moorhead's capability to serve students and our community. We are incredibly proud of the hard work of our faculty through this difficult time and wish the threat of layoffs was not added to an already stressful spring."
More than 30 tenured, probationary, fixed-term, and adjunct faculty across 18 disciplines, mostly in the liberal arts will be laid off, leading to 10 program closures. This is an unprecedented number that will be sure to only increase once the effects of COVID-19 can be better understood.
The 10 programs listed for closure are:
Advertising
Public Relations (Integrated Advertising & Public Relations still offered)
American Multicultural Studies
International Studies
Paralegal
Philosophy BA degree
School Psychology
Spanish Education
Theatre Arts
Teaching English as a Second Language (Graduate)
Park Nelson in response to the news expressed that she is, "alarmed that there is this very focused attack on the humanities." Aside from these departments, other programs are being decimated including Women studies, English History and Philosophy along with further small cuts in other departments at MSUM.
The Women's Studies program was the first in Minnesota and second in the nation and would be a huge loss for MSUM.
The targeted nature of the cuts ripping through the humanities suggests that MSUM is in the process of structural rejection of Equity 2030 as a MinnState system-wide initiative.
"The focus on the humanities for layoffs disproportionately affects faculty of color and makes delivery of social justice curriculum, including race/gender/sexuality issues, near impossible," Park Nelson said. "You absolutely need faculty of color and faculty who have meaningful, significant pedagogical background about teaching racial and other structural inequities and social justice."
Park Nelson's departure also signals a heavy blow to IFO's statewide equity and inclusion work.
Music Professor Laurie Blunsom explained that , "our union has been out ahead in trying to create equity and inclusion for faculty then they lay off the person who is leading that fight."
Professor in the school of art, Sherry Short has observed that cutbacks are fairly cyclical and tend to, "always hurt hard the newest faculty, the diverse faculty and faculty of color. "
Short said she "didn't expect the depth of how they would cut" and described the cuts as simply, "vicious." For the faculty that will remain, the result is that "trust is broken between faculty and administration"
What will Moorhead look like after these structural changes are completed?
There has been no clear indication, however clues abound.
A memo was sent to the faculty about a week before university President Anne E. Blackhurst announced that she was considering retrenchments. The memo outlines a university initiative, "Design Excellence in Large Online Courses."
The announcement of the memo further explains.
"The purpose of this initiative is to help faculty create excellent, fully online courses that are appropriate for large enrollment and in high-demand areas for MSUM students. Audiences beyond current MSUM students may also be considered."
Faculty who complete the course design will be compensated with 3 extra duty days or EED's and another 3 EED's after course delivery.
One faculty member Workday spoke with asserted that, "faculty are being asked to sell their souls for six extended duty days."
According to the memo, "A good candidate for large enrollment is a course on the lower level of Bloom's taxonomy, such as "comprehension" and "application;" high, ongoing demand; content and assessments that may be automated while maintaining integrity of learning."
Participants are intended to have the online course ready to deploy by academic year 2020-2021 or Summer 2021.
The press statement released on April 14th describing the layoffs, suggests that online courses will be a larger pedagogical emphasis at MSUM.
"The university will continue to offer quality programs in flexible delivery modes that address regional workforce needs. For example, the university has seen success in extending offerings from the College of Education by offering online masters and doctoral programs for educators. The university will also continue to add faculty and staff in growing programs, including a new Bachelor of Science in Nursing program."
The statement further read,
"MSUM has a long history of adapting to meet the changing needs of our students and our community," says President Blackhurst. "As our world changes faster than ever, it is imperative that we continue to evolve by positioning the university to serve new students in new ways. This will require making difficult decisions today to become the university our future students need us to be."
Blunsom observed that the administration "decimated the arts at Moorhead" breaking off a key driver of community outreach. The MSUM theater program is a primary community outreach tool. It is one of the most important ways that MSUM interacts with and encourages the public to be on campus. While the art department isn't slated for closure Blunsom explained that, "even with one layoff, curriculum will change and it won't be an excellent program" leading to a loss in enrollment.
The faculty members of the IFO's equity caucus is circulating a petition against the cuts.
In part it reads,
"Institutional budgetary decisions are reflections of values—you fund what you value and you cut what you don't. Faculty of color and LGBTQ+ faculty teaching in programs in the humanities, social sciences, and social justice programs founded in the tenets of inclusion and equity have been disproportionately impacted by the announced retrenchments. Both the faculty and programs disproportionately affected by these cuts teach from an inclusion and equity lens, including Women's & Gender Studies, American Multicultural Studies, Sociology, English, Philosophy, History, Theatre, and Language. These faculty all teach students invaluable analysis, perspectives, and skills that are essential in our current multicultural society and in this globalized world. Students are living and working in diverse communities. These programs teach students how to be responsible and active citizens and leaders in a world that so often undermines equity, inclusion, and social and racial justice. "