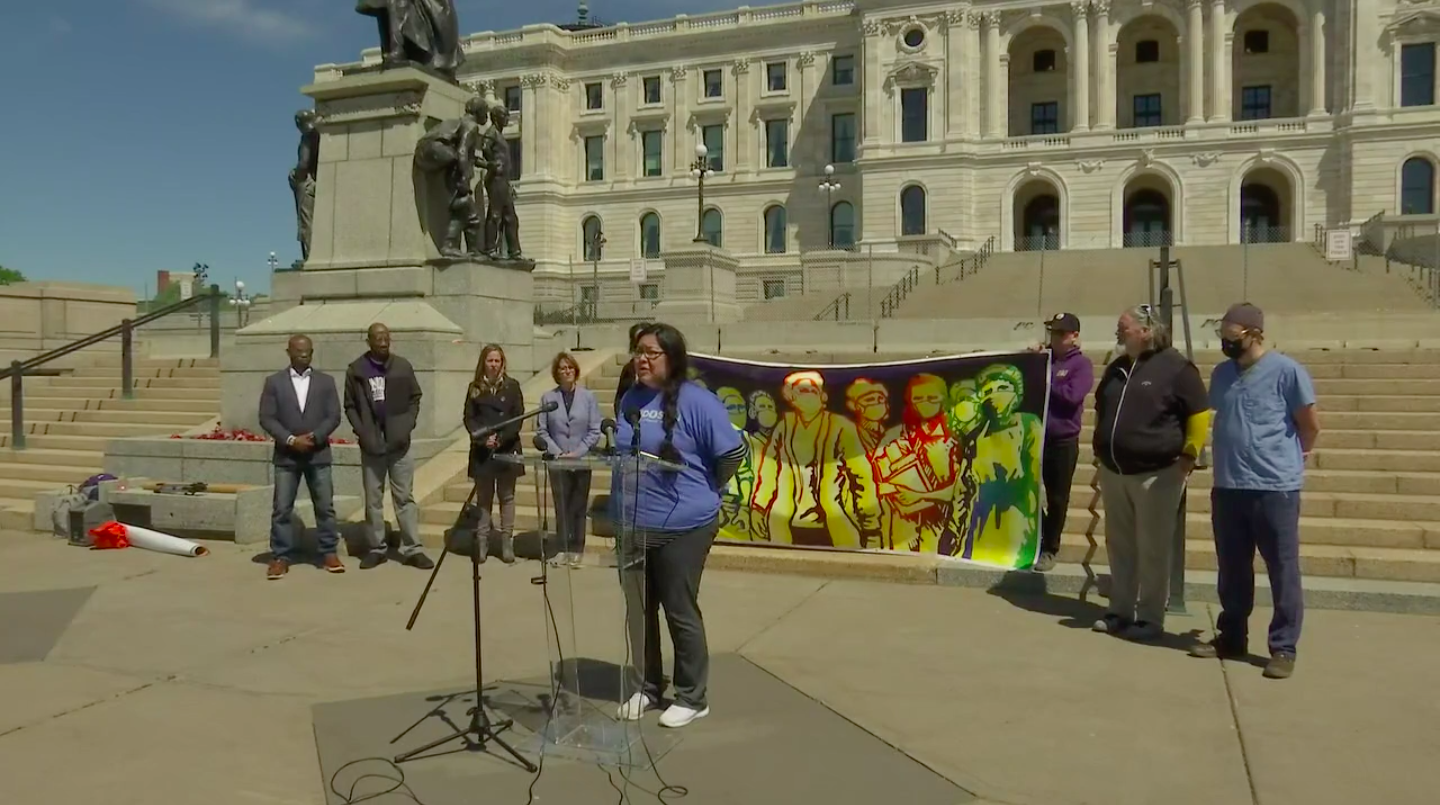 Share
"We're not being taken care of": Essential Workers Call on Legislature for Relief
|
Share
As the threat of COVID-19 seems to dwindle, Minnesota lawmakers have a chance to protect the workers who have put their lives at risk during the pandemic.
"Now we're having a chance to reflect, we haven't even begun to digest and fully come to grips with what happened," said Daniel Clute, a registered nurse with the Minnesota Nurses Association. "A lot of people ask me now, it's a good time to take a vacation, why don't you guys get out there and take some vacation time? And they're sad to find out we don't have a lot of vacation time now. We used up our personal time during COVID-19 taking care of our sick family members, taking care of our loved ones who were sick, having to wait for our pending COVID-19 tests, getting our noses swabbed dozens of times, waiting in uncertainty trying to find out if we had caught the virus that day, distancing from our families…it's been remarkable and tragic and sad."
Essential workers in hospitals, schools, and retail have put their own health and safety at risk to protect the health and safety of others and keep the economy running. Unions have been pressuring lawmakers to prioritize working people. Today, essential workers gathered with legislators outside the Minnesota State Capitol to call for the passing of the Essential Workers Emergency Leave Act. The bill will make sure essential workers have access to emergency leave to care for themselves and their loved ones, and give them back pay for the last year.
Bill Schwandt, a special education paraprofessional and member of Education Minnesota, is president of the Bloomington Federation of Paraprofessionals. Education support professionals, or ESPs, became essential for frontline workers during the pandemic, taking care of children, providing technology support so people can stay connected, and distributing meals to the community. "During this time, many people at the legislature and in my own district said that they were gonna take care of us," said Schwandt. "And right now it doesn't seem like they're remembering that they said that." In school districts, ESPs can be the lowest paid employees, but many are the primary wage earners in their homes, working two or three jobs.
Troy Bowman, a janitor and member of SEIU Local 26, contracted COVID-19 and lost 21 days of work. "I wasn't surprised I got COVID," Bowman said. "I work in an environment that people walk in and out of the store all day…it was in the air, it was something I couldn't contain, something I couldn't control. But I was labeled an essential worker, so I knew I had to go to work and be at work."
Workers like Bowman didn't have the option to work from home, and never received hazard pay.
Representative Cedrick Frazier said it's been easy to call frontline workers heroes. "It should be just as easy for us to make sure we take care of them and make them whole," said Frazier. "Some businesses did that during the pandemic, not all did. This bill will require all businesses, all employers, to take care of their essential employees."
Senator Erin Murphy, a registered nurse, called this an issue of reputation as much as it is an issue of values. Senator Melissa Franzen called the bill "essential" to Minnesota's recovery. "My son was quarantined just a few weeks ago, and our meals got delivered," said Franzen. "Someone put those meals together. Someone put that coursework together to quickly transition to online learning. We have to not just recognize what everyone has put on the line, but also reward them."
Earlier in May, essential workers gathered virtually to tell their stories to community members and elected officials. Governor Tim Walz and Lieutenant Governor Peggy Flanagan said they were pushing for paid leave, but facing opposition from Republicans. "I truly don't know how our friends on the other side of the aisle can be so disconnected from the lives of everyday people," said Flanagan to the workers.
Sofia Montoya, a junior in high school, is a CNA at a nursing home and organizes with Unidos MN. Montoya put aside schoolwork to help her family. "We forgot to uplift the young people working at gas stations and grocery stores," said Montoya on the call. "Many days I was super paranoid I would bring COVID to my family."
Yasmin Muridi, an ESP and member of St. Paul Federation of Educators, spoke on the call about how hard ESPs have been working to help families. "Some people call us invisible heroes," said Muridi, "That is nice to hear of course. But we don't need compliments. We need a paycheck and support that reflects our work."
The special session starts on June 14th.
Listen to more stories from essential workers here.