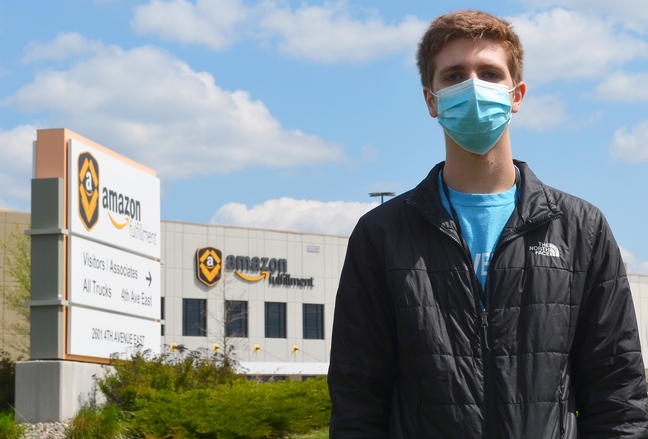 Share
House bill targets high injury rates in Amazon's MN warehouses
|
Share
Responding to disproportionately high rates of injury at Amazon warehouses here, Minnesota lawmakers last week introduced legislation that would put the facilities under new scrutiny when it comes to ensuring workers have access to break time and advance notice of performance quotas that could result in discipline.
"It's our job as legislators to ensure all Minnesota workers return safely to their families," said Rep. Rob Ecklund (D-International Falls), chair of the House Labor, Industry, Veterans and Military Affairs Finance and Policy Committee. "This bill will help ensure accountability is in place so employees have the information they need to be safe on the job."
Ecklund, Rep. Emma Greenman (D-Minneapolis) and other DFL lawmakers co-authored the measure, House File 2774, after a report issued in December by the National Employment Law Project backed up the accounts of local Amazon workers who, at protests and other actions in recent years, have described an unrelenting pace, frequent injuries and generally poor working conditions.
The NELP report cited Amazon's own data showing 11.1 injuries annually per 100 full-time-equivalent warehouse workers between 2018 and 2020. That's more than twice the rate of injuries at non-Amazon warehouses, which averaged 5.2 per 100 full-time workers during the same time frame.
Amazon's Shakopee facility is particularly dangerous, researchers noted, with an injury rate in 2020 that was higher than any industry in Minnesota.
Irene Tung, a senior researcher at NELP, said most injuries reported in Amazon warehouses were severe muscle strains, which can have lifelong effects. The injuries are also "completely preventable," Tung said, if workers are allowed enough time to recover between repetitive tasks.
But local warehouse workers, some of whom testified at the bill's first committee hearing Feb. 10, said rest and recovery too often fall victim to Amazon's "rate" – company-speak for the productivity quotas warehouse workers must meet.
Tyler Hamilton, who has worked at the Shakopee facility for over four years, compared Amazon's rate to a computer algorithm, but with human inputs. The result is a culture of "fear and paranoia" among workers, he told lawmakers.
"You'll overreach, you'll cut corners, you'll do things to improve your rate," Hamilton said. "When you're rushed, when you under stress, that weighs on people."
Mohamed Mire, a warehouse worker since 2017, said the struggle to meet Amazon's rate feels like "we are fighting against a machine, but we cannot win because we are human."
The proposed legislation would require Amazon and other warehouse employers to spell out for their workers what their productivity quotas are and what the consequences will be if they fail to meet them. The measure would also require at least two days' advance notice of changes to the quota and give workers the right to request information gathered by the employer to track their performance.
The bill would prohibit warehouses from disciplining workers for failing to meet a quota that does not account for legally allowed breaks. And it would require the Department of Labor and Industry to open an investigation if a warehouse's injury rate exceeds the industry average by more than 30%.
Greenman called the measure appropriate, given Amazon's growing footprint in the state. It's only fair, she said, to expect the company live up to the standards other warehouse employers in Minnesota are already meeting.
"When we as lawmakers hear from workers and read reports like this – about injury rates at a single company that are double the rate of others in the industry in Minnesota – we should take notice, we should ask questions and we should listen to what those workers are telling us," Greenman said.
The measure cleared its first hurdle in the House, advancing out of Ecklund's Labor Committee.
Amazon workers are organizing locally with the Awood Center, a worker center in the Twin Cities' East African community.