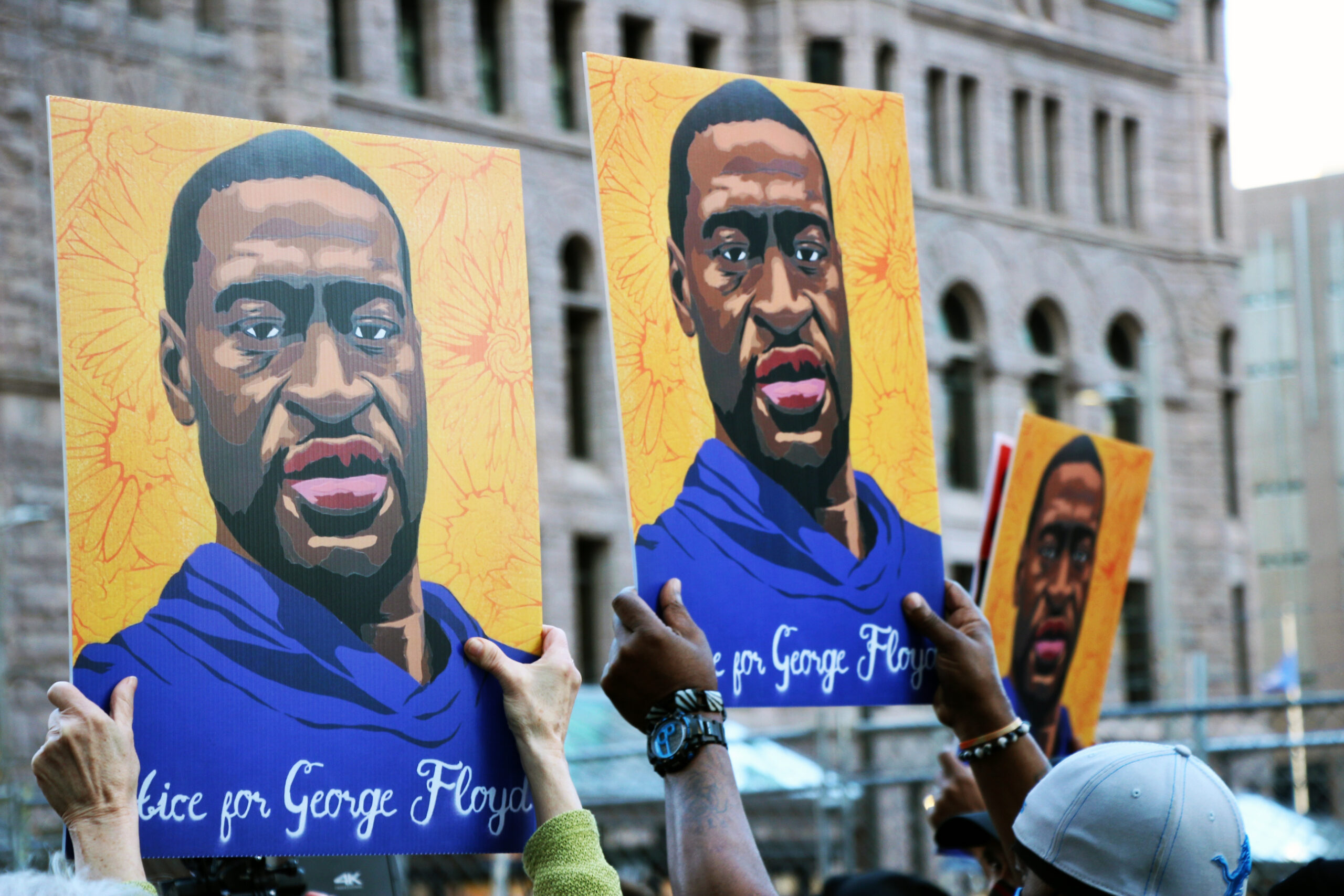 Share
A "Time for Justice": George Floyd's Murderer Convicted
|
Share
Almost a year after video captured former police officer Derek Chauvin murdering George Floyd in South Minneapolis, on Tuesday, a jury found Chauvin guilty on all three counts of second-degree unintentional murder, third-degree murder and second-degree manslaughter. For the first time in the history of Minnesota, a state that has benefitted from the human rights violations of slavery and broken treaties, a white police officer has been convicted for killing a Black man.
During the publicly televised trial, witnesses spoke about the humanity of Floyd, who grew up in Houston and moved to Minneapolis for better working opportunities. Last spring, Floyd lost a job working security and contracted COVID-19. He was in training to become a commercial truck driver, and was experiencing money issues much like others living in a pandemic. He allegedly paid for cigarettes with a counterfeit $20 bill when the police were called. The video showing Chauvin's knee on Floyd's neck for nine minutes went viral, and uprisings that began in Minneapolis grew into the largest protest movement in recent memory. People in cities across the world responded with acts of solidarity and resistance. Escalation of violence, curfews, and an increased military presence was the state's response to collective grief. George Floyd was a human, a father, a worker, and a member of the community.
His fiancée, Courteney Ross, a teacher, said that she hopes the verdict will bring attention to other cases. "It's time for justice," said Ross.
In March, Floyd's family was awarded a record $27 million in a settlement with the city of Minneapolis for wrongful death. Now, the institution of the criminal justice system has acknowledged Floyd's humanity by recognizing that the action taken toward him was not just wrongful, but criminal. Has justice finally been served? As time moves us forward, what does the path of justice look like for you? What does the path of justice look like for a community whose loss and pain will disappear from headlines? What can one historic conviction offer to a social justice movement working to dismantle an entire system embedded in racism and white supremacy?
The George Floyd Memorial Foundation, launched by the Floyd family to preserve his memory through student support, released a statement after the verdict:
SEIU Minnesota Council State Council sent their sympathies to Floyd's loved ones and called for a continued commitment to building a better world for Minnesotans:
"No verdict could ever truly bring justice for the Floyd family. The jury's decision today gives us the bare minimum: a recognition that George Floyd's life had value and that his murderer won't walk free.
"In Minnesota we know that our current system is not working. Those in power work to divide us by race, zip code and our wealth to keep us from coming together to build a state where all of us – no exceptions – can thrive. They underfund our schools and neighborhoods and then blame Black people and immigrants for our hard times. They have designed and upheld a justice system where even though the whole world saw the video of a Black man being murdered by a police officer, we weren't sure whether the officer would be held to account. All the while, a handful of politicians shame and blame the very victims of this police violence to distract us from their failure to ensure we have the care, security and support every one of us needs. We see through it, and we demand better."
Representative Ilhan Omar thanked Minnesota Attorney General Keith Ellison and the prosecution team for their work on the difficult law enforcement case, describing the moment in cultural and political terms:
"Let this be a turning point, where we finally create a society that reflects the belief that all men and women are created equal. Let this be the moment where we implement a broad anti-racist agenda to root out the inequalities that continue to plague us.
That is what drove Martin Luther King, Jr. and the civil rights movement. It is what motivated nonviolent movements from South Africa to South Asia to the American South. It is what drives the Black Lives Matter movement today. And it is what must drive our elected leaders."
Attorney General Ellison spoke after the verdict was announced. "I would not call today's verdict justice, however, because justice implies true restoration," said Ellison. "But it is accountability, which is the first step toward justice."
The American Federation of Teachers President Randi Weingarten issued a statement following the verdict:
"The urgent matter before us is to dismantle the systemic racism that plagues us—to make the fight for anti-racism and equity a cornerstone of everything we do. To do this, we must continue to fight to address all the dimensions of inequality, including fighting for investments in communities of color—in education, community supports, healthcare and neighborhood-based public safety. We must act in their names—George Floyd, Breonna Taylor, Ahmaud Arbery and so many others who died as a result of racism."
Many are celebrating, and many are calling for continued resistance, urgency, and meaningful change. Young people are stepping up to make demands. Minnesota Youth Collective addressed a letter to Governor Walz calling for an end to anti-Black racism in policing. The collective expressed support for the guilty verdict:
The youth can build power by holding leaders and communities responsible and bringing the social justice movement forward in the age of technology. Darnella Frazier was 17 years old when she filmed the video of Floyd's murder with her 9-year-old cousin by her side. She said during witness testimony that filming the video changed her life.
Frazier took on the responsibility of filming during her witness of a traumatic encounter. Would the story of Floyd's death have remained a "medical incident" if she hadn't? How would the city have responded?
In a press conference Tuesday evening, city council members Andrea Jenkins and Alondra Cano joined Minneapolis mayor Jacob Frey in extending condolences to the Floyd family and putting forth their ideas of what justice looks like. Frey, who is responsible for police conduct as mayor, said that the uncertainty has been "unrelenting," especially for Black neighbors, but claimed a collective sense of unity. He supports the narrative that Minneapolis is capable of progress and working on public safety measures beyond policing as we know it. "We are a city that is collectively united around the change that has been prevented for generations and generations," Frey said. "What makes our democracy work and what will make our community stronger and what will ultimately inform our ability to honor George Floyd's life in both word and deed will be our collective willingness to have active participation in shaping our future, to make sure that the precision of our actions match the precision of the harm that was initially inflicted."
Can one precisely measure 400 years of racial discrimination and violence along with the harm that continues to impact Black and Brown people to this present moment? Frey thanked the jurors, the witnesses, and the city staff working during the trial, and he had no clear answer as to when Operation Safety Net will end, the mutual aid agreement between police and the military that community organizations have called punitive and traumatizing. In a press conference Wednesday, Major General Shawn Manke of the National Guard said there are currently 3,000 National Guard members on duty, but they'll be demobilizing in the next week, along with the State Patrol. Minneapolis Chief of Police Medaria Arradondo said they will be preparing for the trials of the other former police officers in August.
City Council Vice President Andrea Jenkins, who represents Ward 8 and the neighborhood of 38th and Chicago, called for the memorial site to become a beacon of social justice. "This verdict is about the humanity of black people," said Jenkins. "White supremacy is at the very core of this country's founding. It's in the soil, it's in the water, it's in the very air that we breathe. But today, justice was served. Police accountability was handed out. It gives us a little more hope…hope that coalition building has new momentum. Hope that intersectionality becomes more than a buzzword but a way of life. It is only through coalition building that we will once and for all end racism in this community and in this country."
Alondra Cano, who represents Ward 9, talked about the collective love and care she has seen. "It's been a long hard year for Minneapolis," said Cano. "We needed this sliver of justice…tomorrow as we think about Daunte Wright in Brooklyn Center and Adam Toledo in Illinois, we open our hearts to continue to walk down the path of justice."
The funeral for Daunte Wright, who was shot and killed April 11 in Brooklyn Center by former police officer Kimberly Potter, is on Thursday. If justice has been served in the case of Floyd's death, what does that mean for the charges against Potter? Will people power help bring justice?
Judge Peter Cahill revoked bail for Chauvin and announced that sentencing has been scheduled eight weeks from now. The other former police officers that were present at the murder, Tou Thao, Thomas Lane, and J. Alexander Kueng, are scheduled to be tried together August 23. Continued pressure and scrutiny from the people and anti-racism efforts in our institutions are necessary, as well as continued transparency from the legal system and media coverage in response to the ongoing issue of police brutality.