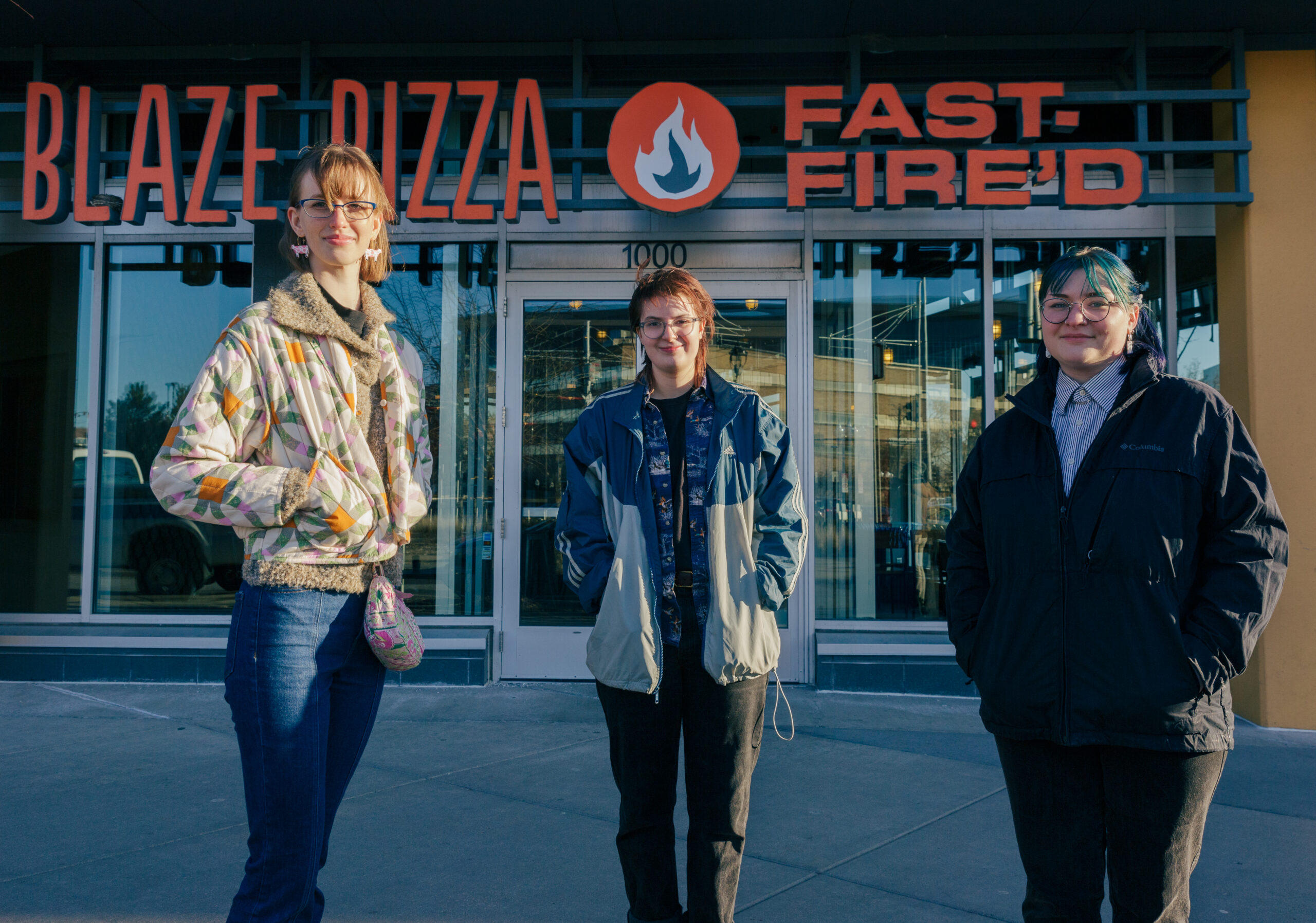 Share
Blaze Pizza workers win back stolen wages
|
Share
"I remember going into work one day and hearing a coworker complain about our wages. This was maybe three months into me working at Blaze. Until then, I had no idea that anything was wrong," said Sydney Kuran, a worker at Blaze Pizza and nursing student at the University of Minnesota. "I expected them to pay me a legal wage. I trusted them to do that, because why wouldn't they?"
Kuran is one of the workers who won over $28,000 in a settlement over wage theft violations and damages by the Blaze Pizza franchise located in the Stadium Village neighborhood of Minneapolis. The workers, along with Restaurant Opportunities Center Minnesota (ROC-MN), hosted a press conference on Tuesday announcing the settlement.
Often, workers are not regarded holistically, but as costs on a spreadsheet. Taking action against employers can be difficult if workers feel at risk of losing their job and source of income or benefits. Former Blaze Pizza worker and UMN student Aibai Tarrant spoke about becoming aware of their rights.
"I didn't know the owners were stealing my wages…however, there was a poster of labor laws in the kitchen that I would read occasionally and wonder if we were being paid correctly," said Tarrant. "I brought it up to management a couple of times, but they were dismissive about the issue."
Not only was management dismissive of stolen wages, they were dismissive of safety concerns during the pandemic. After management failed to address any of the issues workers brought up, workers connected with organizers from ROC-MN who helped them file a complaint. After filing the complaint, the Minneapolis Department of Civil Rights opened an investigation into the owners. It took about five months from filing the complaint to winning the settlement.
"We fought tooth and nail to raise the minimum wage, to guarantee paid sick time in this city and create anti-wage theft policies, but when you look at the resources that the city of Minneapolis and the mayor have put toward the enforcement of those policies versus law enforcement in police departments, it's minuscule," said Eli Stein, lead organizer at ROC-MN. By July 1, 2022, large employers in the city of Minneapolis must pay a minimum wage of $15 an hour. According to MPR, the $9 million police union contract approved last week by the Minneapolis city council giving officers a $7,000 bonus has been criticized for lacking accountability measures.
Since being hired in September 2020, Kuran said management and training has been disorganized. Work schedules would be released the day before the work week, making it difficult for workers to balance their lives. Additionally, this was the first job Kuran had while going to school, and they had to take out loans for living expenses. "Funds were so tight for me that I dreaded looking at my weekly paychecks to the point where I avoided looking at them at all," said Kuran.
Democratic socialist and Ward 2 Minneapolis city council member Robin Wonsley Worlobah also spoke at the press conference. Wonsley Worlobah, whose ward covers the University of Minnesota, spoke about student employment at exploitative workplaces.
"I see the connections between wage theft, predatory lending, and practices that happen at many of our four-year, higher-ed institutions, even the housing development that surrounds the University of Minnesota," said Wonsley Worlobah. "It's unrealistic…the toll that our students are having to bear in our current economic climate. I'm so grateful we're seeing workers stand up. It sets examples for other workers that they don't deserve subpar workplace conditions and they don't deserve having their wages stolen."
When asked to comment, a Blaze Pizza spokesperson sent this statement in an email:
"Blaze Pizza consists of more than 340 locations across 38 states and six countries, many of which are independently owned and operated by local franchisees. As independent franchisees, each local owner is solely responsible for setting the hourly pay and salaries of their employees, and complying with local minimum wage and sick leave ordinances. Blaze Pizza values our franchisees' employees and expects every franchisee to prioritize fair compensation and the safety of their team members. We are pleased to hear of the settlement with the former franchisee and that current employees are now receiving fair compensation under the new ownership."
Wage theft is rampant in the food service and restaurant industry, harming millions of workers each year. The Economic Policy Institute found that stolen wages can add up to $8 billion annually, and possibly exceed $15 billion. In 2021, former workers with the Bartmann Restaurant Group in Minneapolis won $230,000 in stolen wages.
Stein said that any current or former Blaze Pizza workers wondering if they may be included in the settlement should contact the Minneapolis Department of Civil Rights.
"One of our key goals is to make sure workers know their rights," said Stein of ROC-MN. "Budgets are political documents, and I think one change we can see in our city is doubling down and significant investments in enforcing the law, not on communities of color and poor communities in our city, but business owners who are cheating workers out of what they deserve."
Now that the store is under a new owner, workers are reporting better conditions.
"I wasn't sure what the outcome would be, but it was better than I had imagined," said Tarrant. "I encourage everyone to make sure they're being paid correctly and review their rights as workers."