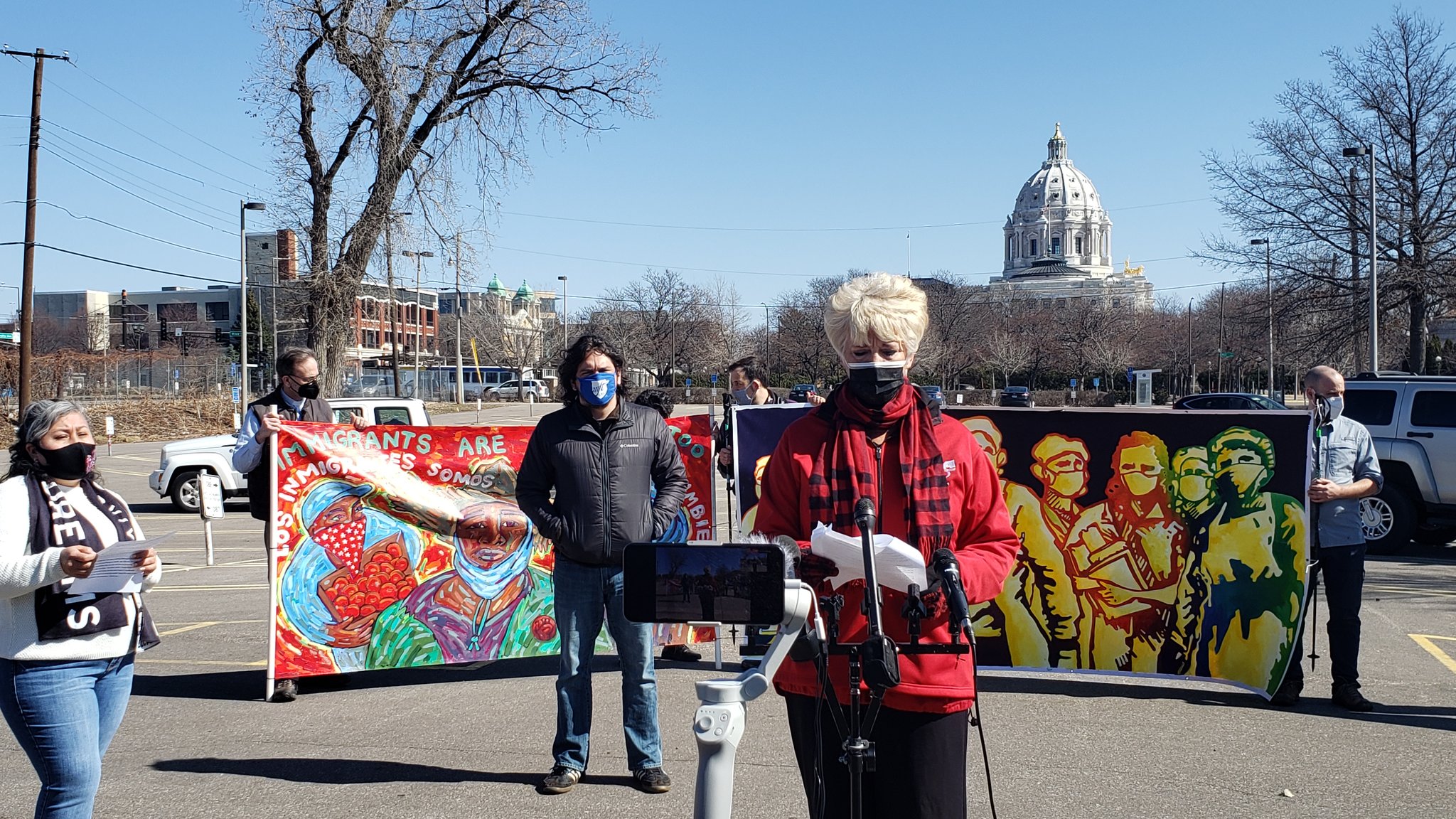 Elia Starkweather is a janitor in downtown Minneapolis and a member of SEIU 26. She said the past year has been like a nightmare for her and her coworkers who faced the threat of COVID-19 at work. Many of her coworkers got sick and four of them passed away. She was really close with one of them who passed away, who she worked with overnights for three years. "It's really painful to see that empty chair every single day in the building," said Starkweather. "To see the place where he used to work, used to clean. It's really hard for us."
Today, March 13th, marks the one year anniversary of the COVID-19 peacetime emergency in the United States.
Speakers gathered in person near the Minnesota State Capitol, and a virtual rally was held to listen to the experiences of essential workers whose lives have been affected by the pandemic. The rally, sponsored by the We Make Minnesota coalition and groups including SEIU Minnesota State Council, Minnesota AFL-CIO, Unidos MN, Education Minnesota, the Minnesota Nurses Association, the Awood Center, Minneapolis Federation of Teachers and more, featured stories from essential workers who are calling out for change.
Essential workers like Starkweather and her coworkers have been scared for their lives. She felt scared when she got COVID-19 in January. She was scared of the virus and scared to lose her family. "In the meantime, I was thinking, how am I going to pay the bills? How am I going to pay rent?" said Starkweather. "We are essential for our families."
Rubi Pesqueda, a worker from St Cloud also spoke, translated by Ma Elena: "In my home, we are two essential workers. I had to stop working for fear that my child would get sick since he has medical conditions. My child was confused and said that he did not want to die. With one salary, it is not enough for all the costs in a family. I went back to work but I am worried because people are still getting sick. We want to ask people to continue using the masks."
Diana Tinajero and her husband are essential workers from Rochester and they've been working the entire year. She works in a hotel and her husband works in construction. "It is scary to think that he is risking himself because it's a matter of survival," said Tinajero. "Our housekeepers are majority Latina women, we're exposing ourselves and not getting hazard pay. It's incredibly unfair. I wish I could have stayed at home all this time but I couldn't because if I stay at home and don't work, how am I gonna pay my bills? How am I gonna pay my rent?"
Shaun Laden is a classroom assistant at Minneapolis Public Schools and ESP President of Minneapolis Federation of Teachers. "For essential workers and our families, this pandemic has been a doubling down on the forces that impact our lives," said Laden. "While the work we do–caring for children, ensuring the food supply, providing healthcare for public safety–is not stopped and deemed necessary to the highest degree, we have just seen how little value is placed on workers in this country. This is an extension of the conditions that existed before this pandemic, not a unique experience to it."
Education support professionals have been providing child care for essential workers and first responders since the beginning of the pandemic. "Before the pandemic, education support professionals had been nearly invisible to policymakers," said Laden. "But when it came time to meet the most critical needs, our ESP were once again the ones to make school happen."
Jessica Valesco, an organizer with Unidos MN shared her family's experience of loss during the pandemic. "Even though we organized and tried to educate our community, we still couldn't save every life," said Valesco. "This last November, my father got sick. My mother is an essential worker. She works at 3M. She works to make masks to ensure that no more Minnesotans would pass. But the virus doesn't care.
"On November 18th, my dad went to the hospital. Thank you to the nurses, thank you to the support of my community. We were able to push through. My dad decided to go home, and he left this earth on January 6th. But I know my dad would want me to keep fighting because he wouldn't want any more children to go through what we went through."
Mary Turner, president of the Minnesota Nurses Association, said that 71% of their nurses gave up paid time off and sick hours, losing half a paycheck and up to 100 hours of pay. "Today, we honor the sacrifices of all essential workers who have contracted COVID-19 because of their job duties," said Turner. "We acknowledge all the sacrifices essential workers have made to care for us, including the price that's been paid by their families. Workers are keeping Minnesota going, in the hospitals, in the streets, in the grocery stores, in the kitchens. Despite the risks, they're not receiving any kind of emergency leave. They're not covered when they have to go through quarantine. They go without pay when they have to care for a sick family member or a child without a classroom. They have isolated themselves in hotel rooms, basements, even backyards, because most of all, they can't afford to get sick."
One year into the pandemic, essential workers are still facing the threat of COVID-19 and a lack of protections. A few policies that were called for that would improve the lives of workers include paid family leave, unemployment for hourly school workers, raising the minimum wage, and universal healthcare. The Essential Workers Emergency Leave Act was introduced to Minnesota State Congress in January.
View more essential workers telling their stories here.