Mark Rincon has worked in the restaurant industry for over 30 years and is a former bartender at Red Stag Supperclub in Minneapolis.
"Kim Bartmann stole our money, plain and simple," said Rincon. "She stole our money when we were worried about our livelihood, we were worried about contact with customers, we were worried about our health. The arrogance and entitlement she displayed wasn't just cringeworthy, it was illegal, it was literally heartbreaking and life-altering for many of us."
Many workers in the restaurant and food service industry depend on wages and tips for survival. But wage theft, the practice of employers failing to pay their employees the wages they are entitled to, is a widespread problem in the industry.
In March 2020, the office of Minnesota Attorney General Keith Ellison launched an investigation into wage theft by the Bartmann Group, a restaurant group in the city of Minneapolis. The investigation has resulted in a settlement of $230,000 in back pay, overtime pay, and damages for over 200 workers. A virtual press conference on Wednesday included stories from those workers whose wages were stolen, as well as comments from ROC United president Dr. Sekou Siby, and lead organizer of ROC Minnesota Eli Stein, who helped organize the workers even before the pandemic.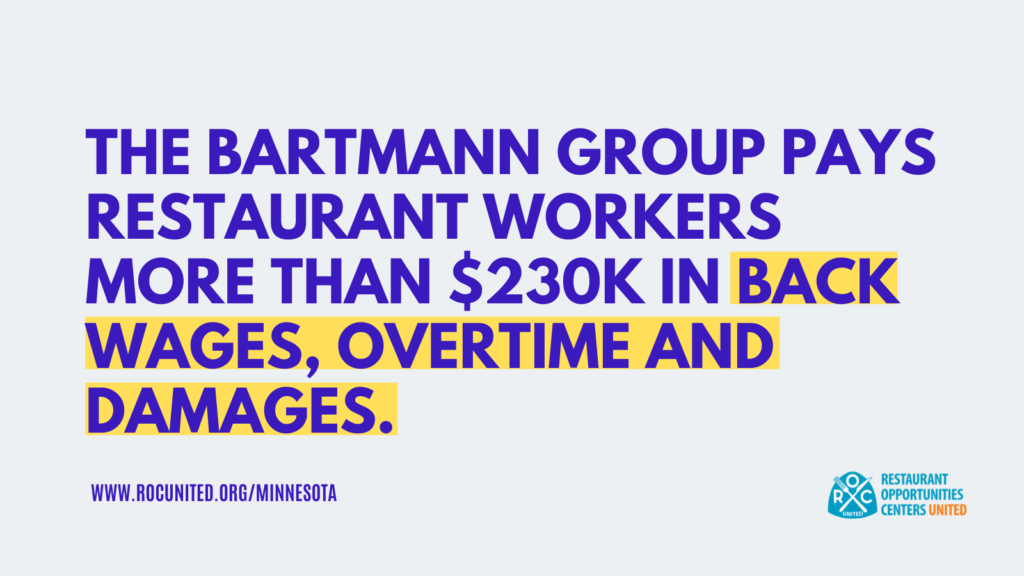 Rachel Hite-Smaka was a server at Pat's Tap. "Thinking back to the moment I received that email from Kim that she wasn't going to pay us…I remember feeling panic and confusion…I remember thinking, can she even do this? Is this legal?" said Hite-Smaka. "In the service industry we are taught to settle for the bare minimum treatment from our employers over and over and over again because we are replaceable. That message is traumatizing."
Ally Hosman, a former Bartmann group restaurant worker who has worked at several Bartmann restaurants over three years, wanted to make clear that the pandemic is not to blame for the mistreatment and wage theft. Workers began organizing in January 2020 to address violations they were experiencing. "The conditions that the pandemic created were the catalyst for us to voice our grievances, equip ourselves with the knowledge of our rights, and to join together to demand justice," said Hosman.
Naomi Hornstein, also a former worker at Pat's Tap, was expecting a final paycheck after Pat's shut down because of the pandemic in March 2020. "I was really terrified of the pandemic, and on top of all that, not sure when I could work again," said Hornstein. "I along with 200 other employees received an email from Kim Bartmann that we would not be getting our pay. I had already earned this money…all my coworkers were in the same boat…because we had already started building relationships at work with ROC, we were able to get a petition out."
Over 91 workers and around 3,300 community members signed a letter demanding wages for the workers. They even established a GoFundMe to mitigate the harm caused by the Bartmann group. "We took that risk to organize together and fight for what we were owed," said Hornstein. "I feel really proud of that collective work that we've done. It showed me the power of organizing together, even in really, really dark times."
Dr. Sekou Siby, president of ROC United, called the settlement a monumental victory in standing up to unlawful labor practices. "I applaud Attorney General Ellison and his staff for not allowing the Bartmann group to shirk its obligation," said Dr. Siby. "This settlement sends a strong message that wage theft and unjust treatment of workers do not have a place in the restaurant industry."
Attorney General Ellision said he left Congress to work on the law enforcement of wage theft. "Our economy is not working for working class people. We need to enforce laws and pass better laws, too," said Ellison.
For the organizers and workers, the settlement is an initial step forward toward bigger change. After I asked the workers about what other types of changes they believe are needed in the industry, they had a discussion on different struggles they faced individually and as a community.
"Restaurants across the board, regardless of whether there's 5 or 500 employees, all are paid a living wage and treated with respect and dignity," said Hosman. "More restaurants specifically in Minneapolis come to the table to fix some of the issues they are also contributing to by not paying their workers appropriately."
Rincon, a member of ROC Minnesota, said that workers need to unionize. "We don't get breaks, we don't get lunch hours, we're on the job from beginning to end," said Rincon. "If we ask about it, we're laughed at. In the restaurant industry it's not enforced. We are often told and threatened with 'you are replaceable' and we know, but do we need to hear that on a daily basis? I don't think so. I would like to see restaurant employees gather together and unionize."
Ellison responded to this comment by Rincon, encouraging documentation of these violations and coming forward to the AG's office with complaints. Rest breaks and meal breaks are mandatory under Minnesota law. "If we hear Mark say we don't get our breaks, that's pretty disturbing," said Ellison. But retaliation is a real fear for employees. Time spent taking breaks also means less time making tips. When employees enforce the issue, they fear extra workload, loss of hours, and loss of control over their schedule.
Many of the workers didn't receive messages asking them to come back. None of the workers at the press conference have returned to the food service industry yet, except for Hite-Smaka, who is now bartending for a different employer. "I'm happy I found a place I feel good about, but I would never work for Kim Bartmann again."
Workday reached out to the Bartmann Group for a comment, but Kim Bartmann is on vacation until Labor Day.