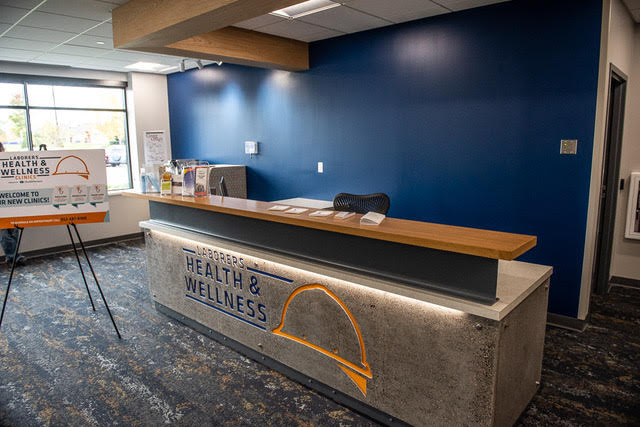 Front desk at Laborers Health and Wellness clinic
Share
Three new health and wellness clinics in Minnesota have started serving the needs of workers in Minnesota and North Dakota. Two locations, one in Hugo and one in Rogers, opened in October, and the Eagan location opened in November. The clinics serve members and dependents of Minnesota and North Dakota Laborers Union, part of Laborers International Union of North America.
The Minnesota Laborers Health and Welfare Fund opened the clinics in a unique partnership with HealthPartners and are staffed by HealthPartners clinicians. The clinics offer non-emergency preventative and primary care to the fund's participants. Visits, services, and medications are free with no co-pays or follow-up paperwork.
In 2017, Rod Skoog, Minnesota Laborers Health and Welfare Fund Coordinator, and Joe Fowler, Business Manager for Laborers Local 563, thought increasing access to care would mean that members could be more proactive about their health. In 2020, their vision became reality.
"The Minnesota Laborers Health and Welfare Fund has been committed to our members' health and wellness for decades," said Skoog in a press release. "Offering a convenient, no-cost, no co-pay clinic visit is an innovative new way to better serve our members. Our members have shared their excitement about the clinics, and we expect them to be the go to clinics for their health care needs."
Among the services listed on the clinic website are chronic condition management, common prescriptions, lab tests, cold and flu treatment, seasonal allergies, sinus and ear infections, minor injuries, and immunizations. They also offer virtual visits.
According to Skoog, operations so far are going as expected. They've slowly rolled out services to membership, but the feedback has been positive. In 2021, there will be a more active campaign to engage members. "When you start something, you do your very best to anticipate all the things that need to be done, but there are always those unexpected things," said Skoog about opening during a pandemic.
What makes the partnership with Healthpartners unique is that they took a different approach to running the clinics. "We want them to be laborers clinics managed by the laborers trustees and our health fund," said Skoog. "We've hired Healthpartners to staff the clinics, to bring in the professionals, bring in labs and bring in pharmaceuticals. But at the end of the day they're laborer clinics. We built them, we own them, we lease the office space and pay the light bill. But we have Healthpartners on the inside doing the clinician work."
Patients, as union members, may have different beliefs and values, so Skoog said they wanted to make sure the people serving their needs understand them.