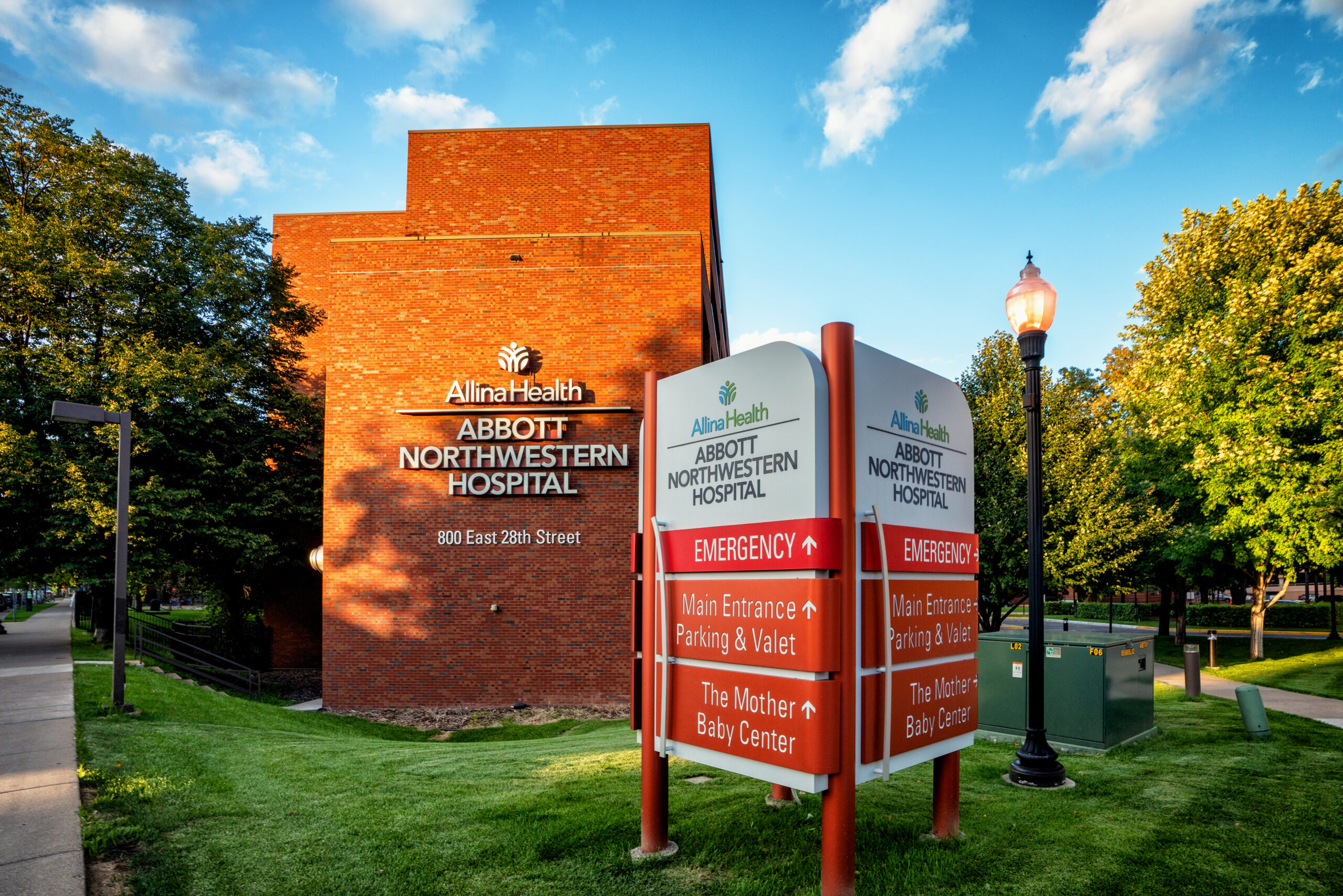 The Allina Health Abbott Northwestern Hospital campus at 800 East 28th Street in Minneapolis, Minnesota, with signage pointing toward the emergency room, main entrance, parking, and The Mother Baby Center.
Share
Healthcare Workers Reach Agreement with Allina, Withdraw Strike
|
Share
After eleven sessions at the bargaining table, over 4000 frontline essential hospital workers with SEIU Healthcare Minnesota reached a tentative agreement with Allina Health on Wednesday, less than five days before a potential strike at facilities across the state.
Allina had proposed a 0% pay increase and refused to agree to safety and staffing changes for workers who have been on the front lines during the pandemic. On April 28, Allina workers announced a 10-day notice of an Unfair Labor Practice strike to begin on May 10. The union has rescinded the strike notice as members review and vote on the new proposal in the coming weeks.
Workers won the following gains in the TA:
5% pay increase over three years with 3% in the first year, including back pay
Additional market adjustments in the first year for non-metro hospitals i.e an additional .5% to members at Buffalo, St Francis and Owatonna, 1% for Surg Techs at Owatonna, PEI and Unity
9% pension increase over three years of contract
Workplace Safety Improvements
Recognition of Martin Luther King, Jr Day and a commitment to equity and inclusion
Numerous other language changes on job vacancies, give-away shifts, scheduling provisions and more
Dawn Akkaya, a scheduling secretary at Abbott Northwestern, said in a press release that the contract will have a personal impact. "My husband moved to this country and I had to help him in the process of getting his citizenship," said Akkaya. "One part of our TA is new language allowing members to get up to three days for court dates for immigrantion related activity. This agreement shows our union's commitment to being welcoming to all members. We also won language around workplace safety and workplace violence in our TA. With this new language, if there is an incident of workplace violence, the victim will have access to counseling and other services, which is so important."
Nancy Chamberlain-Leech has been a surgical tech at Phillips Eye Institute for 37 years and is a member of the bargaining team. "I'm excited about the 9% increase in our pension in our agreement," said Chamberlain-Leech. "As I look forward to my retirement, I'm proud that our bargaining team–both those of us close to retirement and those who are newer employees–have made retirement security and our pension a priority. We could not have reached this TA without the collective action of our membership."
Lynn Carlson, a LPN at Allina for 29 years and Vice President of the bargaining team, thanked the membership for its action and support. "I've been bargaining since 1980 and we haven't seen 3% with back pay since 2008," said Carlson. "Our solidarity got us to this point and the majority of our bargaining team are recommending a yes vote."
A statement from Allina Health on the agreement:
"Allina Health is pleased to have reached a tentative settlement with SEIU Healthcare Minnesota. We believe that the contract is fair and recognizes the priorities of both parties. The settlement, which the union is recommending, is subject to ratification by the union membership.
Allina Health remains committed to being both an employer of choice and to our caring mission of serving our patients and communities."
SEIU Healthcare Minnesota represents 4,000 workers at Allina, including Environmental Service Aides, Nursing Assistants, Nutrition Services, Emergency Department Techs, Patient Transport Aides, Patient Access Specialists, Sterile Processing Techs, Surgical Techs/Instrument Specialists, Health Unit Coordinators, Linen Aides, Rehabilitation Aides, Receiving Clerks, Warehouse Clerks, Materials Handlers, LPNs, Phlebotomy/EKG Assistants, and Radiology Techs.