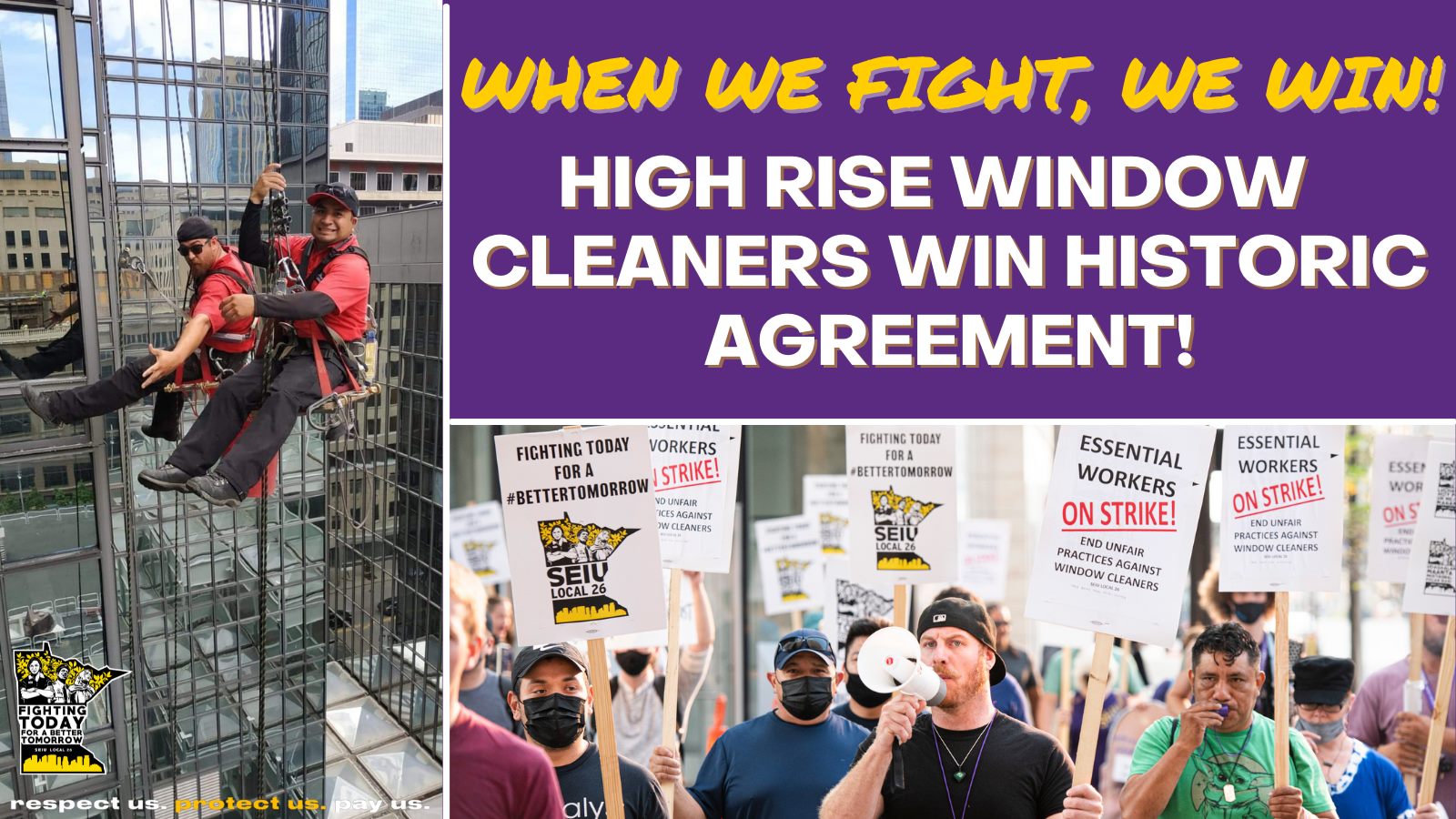 Share
High Rise Window Cleaner Strike is Over
|
Share
High rise window cleaners who have been on an Unfair Labor Practice (ULP) strike for ten days reached a tentative agreement early this morning at 1 a.m. to end their strike.
Highlights of the 4-year contract include:
Funding from the companies to start the first ever state-registered window cleaner apprenticeship safety program in Minnesota
Wages increasing to over $30/hr for high rise pay by end of contract; all workers will receive a 12% increase, making pay for window cleaners in Minnesota second only to New York City
Increased sick days & disability pay
"The last ten days were so beautiful and I'll never forget the unity for the rest of my life. From my fellow window cleaners to people on the street honking horns and pumping their fists, the solidarity we experienced is something I'll treasure forever. I'm so proud we stuck together and won our apprenticeship program and obtained fair raises," said Eric Crone, a window cleaner and steward with SEIU Local 26. "After the last year, all essential workers deserve more. It's important that all the workers who kept our state running during COVID fight for what we deserve. Our strike showed that no one will just give anything to us, but you have to stand up and fight for what you deserve. I hope our strike, and our strong new contract, show other essential workers that when you band together and stay the course, you can get results."
The strike began Monday, August 16th and saw picket lines at various locations across Minneapolis and St. Paul, including the MSP Airport where dozens of airport janitors honored the picket line.
The tentative agreement will cover over 40 workers at three companies (Columbia Building Services, Final Touch Commercial Cleaning and Apex North). Apex North had already agreed to the main principles proposed by the workers so their employees were not part of the 10-day strike.
Window cleaners will return to work on Monday.