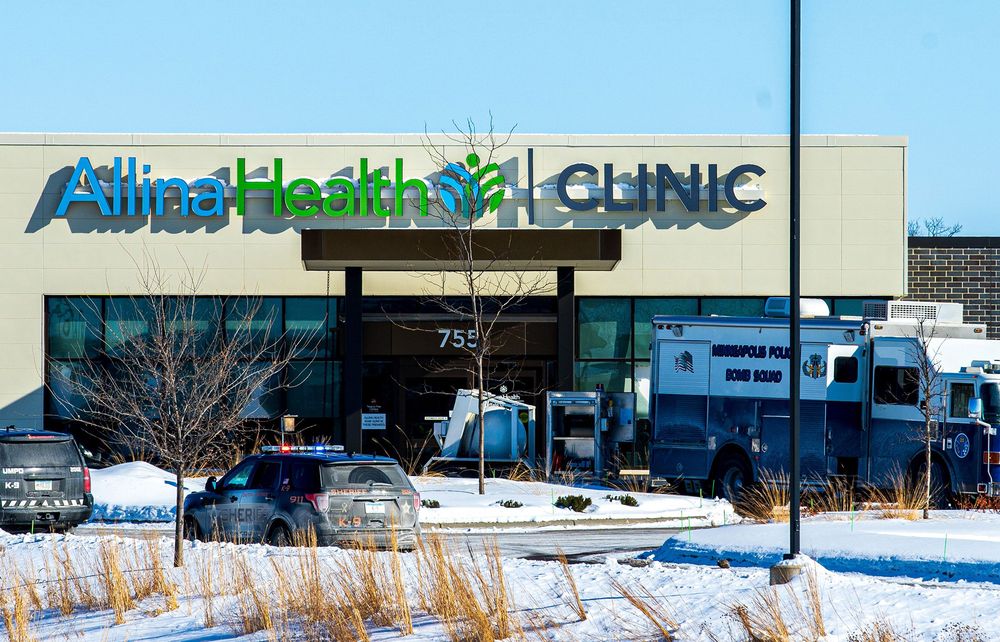 Share
Hospital Workers Call on Leaders to Act
|
Share
Hospital workers are saying they feel undervalued and unappreciated during the pandemic. In the midst of union contract negotiations, workers in hospitals across the Twin Cities are arguing that their employers have fallen short of addressing workplace concerns such as fair pay and safety guidelines. Words of appreciation are not enough for these frontline workers, and they are seeking more action from those at the top. One thing that the workers have taken issue with is that Allina Health has proposed a 0% pay increase for the first year of the new contract.
"We are the ones that take risks, that build the wealth of companies like Allina and we deserve a contract that reflects what we're worth," said Gene Sparks, an EMT at St. Francis Medical Center, at a press conference Wednesday. "I came into this process hoping to see that Allina recognizes all the extra risks we are facing on the job, and that they would be willing to bargain in good faith with us. But all we've heard on our proposals is a resounding 'no,' while they provide PowerPoint presentations filled with buzzwords that might look good on paper but do nothing to make me or my coworkers any safer."
Sparks said that in addition to the threat of COVID-19, they've seen a rise in mental health and chemical dependency crises that Allina has been slow to address. He and coworkers face verbal and physical violence on the job that results in injuries and worse. In January, a paramedic from Central Minnesota died while on a medical call. In February, a man opened fire in a Buffalo clinic where he shot and wounded four staff members and killed a medical assistant.
Carmen Campbell is a CSA at Children's St. Paul Hospital, and is passionate about her work taking care of families and children, but has felt scared during the pandemic. "At times it felt like we were being sacrificed, but we still did our jobs every single day," said Campbell. "I want to say to those in charge who keep saying we are asking for too much: come walk a mile in our shoes."
Timothy Sule works in the Remote Observation Department of Abbott Northwestern where they observe patients for safety. Sule is astonished at the 0% pay increase, which he thinks shows a lack of appreciation. "At times it feels like our health is not important to the management in charge," said Sule. "It feels like the money is more important than those of us who do this work, which is really frustrating. After what healthcare workers have gone through, it feels like we shouldn't even have to ask."
Brenda Hilbrich, the Executive Vice President of SEIU Healthcare Minnesota, said their proposal includes efforts at addressing racial justice, equity and inclusion, patient and staff safety, recognition for essential work through the pandemic, and fair pay. Hilbrich has been leading the negotiations in two collective bargaining agreements with 8,000 workers across several hospital groups in the Twin Cities area. "When you hear people talk about Minnesota's world-class hospitals, that is the work of our members," said Hilbrich. "What we want to ask of the CEOs and executives is to leave the safety of their work-at-home setups and spend a day with our members caring for patients, cleaning the hospitals, serving the food, taking the blood."
These workers, who are the lowest paid employees in the hospital system, include environmental service aids, nursing assistants, nutrition services, emergency department techs, patient transport aids, patient access specialists, sterile processing techs, surgical techs/instrument specialists, health unit coordinators, linen aids, rehabilitation aids, receiving clerks, warehouse clerks, materials handlers, LPNs, phlebotomy/EKG assistants and more. Hilbrich said that 60% of members are people of color, and 80% are women. Members are being told there isn't money for raises for these frontline essential workers, even though hospital executives and CEOs, who have been able to work safely from their homes during the pandemic, make thousands to millions of dollars a year. In 2018, Allina Health President and CEO Penny Wheeler made around 2.3 million dollars and Fairview Health Services President and CEO James Hereford made around 1.8 million dollars.
The bargaining table with Allina Health includes Abbott Northwestern Hospital, Buffalo Hospital, Mercy Hospital, Owatonna Hospital, Phillips Eye Institute, St. Francis Regional Medical Center, and United Hospital. Another bargaining table with Twin Cities Hospitals includes North Memorial, Children's Minneapolis & St. Paul, Park Nicollet Methodist, M Health Fairview, U of M Riverside, Southdale, and St. Johns.
Allina Health didn't respond to a request for comment.