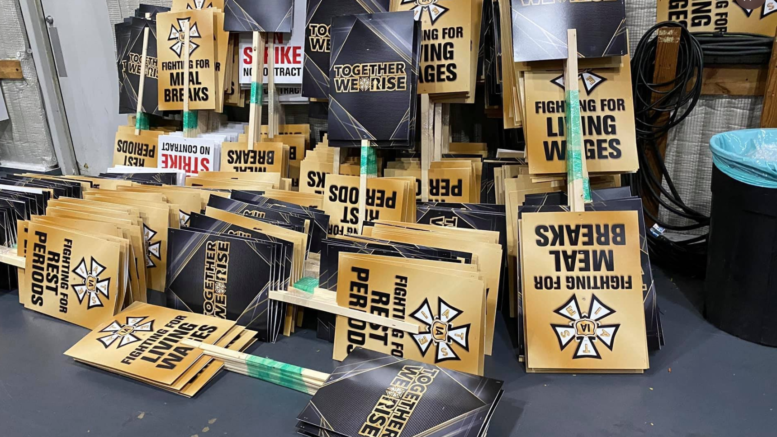 Strike signs being prepared in Burbank as 60,000 IATSE members prepare to strike (Twitter @runolgarun)
Strike signs being prepared in Burbank as 60,000 IATSE members prepare to strike (Twitter @runolgarun)
Share
How the Pandemic Lockdown & Retail Walkouts Mobilized IATSE Members
|
Share
This past March, Tom Pieczkolon was reading about Amazon's failed union drive in Alabama when a light went off in his head.
The 30-year-old sound engineer, a member of IATSE Local 695, suddenly realized his struggle to gain better working conditions for those in the film industry was connected to Amazon's warehouse workers as Amazon was a major employer of film production workers.
"A lot of us are really fighting against the same conglomerates," said Pieczkolon of the defeat. "We saw the Amazon union drive when unions tried to unionize in Alabama earlier this year. It was very disheartening to see how much money and effort Amazon as a company put into making sure that the union didn't come through."
However, Pieczkolon says that the 60,000 film industry workers, backed with high-profile celebrity support, have the chance to inspire other workers to continue to strike.
"I think, seeing any of us come through this for the victory is going to be inspiring to other sectors of employment across the country that deserve and need to bring up their own labor issues," Pieczkolon said.
The looming strike of 60,000 film production workers is, in many ways, connected to the broader trend that led to more than 1,500 strikes since the beginning of the pandemic in March of 2020, according to Payday's Strike Tracker.
Until this year, Pieczkolon says that he wasn't very active in his union. But living through the pandemic and seeing the massive wave of strikes across the country, particularly among retail workers, inspired him to get more involved.
"I think both with what we're doing and what [retail workers] are doing, it's inspiring each other," said Pieczkolon. "A lot of people are starting to realize that they're incredibly undervalued, despite their titles being essential, as ours was deemed essential in June 2020. And, I think essential workers want to feel essential, not just be told they're essential."
As Payday reported last week, film production companies like to work 14- to-16-hour days to save money on travel and equipment rental costs when out on shoots, regularly leading to burnout and, in some cases, deadly car accidents.
Then the pandemic hit and workers began to think differently.
"You had everybody in the industry, particularly people in production, who were working 14, 16 hour days; they never had a second to stop and take stock of things," said Jason Brotman, an assistant editor and co-chair of IATSE's Young Worker Committee. "And I think when everybody stopped working for six months, and had to actually face what their life was like, without work, they started to realize how many things that they were missing out on, and now they don't want to have to give that back."
The anger over work-life balance led to an overwhelming 98.6% of IATSE's 60,000 workers voting last week to authorize a strike against the Alliance For Motion Picture and Television Producers.
An IATSE strike would shut down film production not just in Hollywood, where the film industry is primarily based, but also in Georgia, Chicago, and many of the dozens of cities across the U.S. where filming is done, including Pittsburgh Payday Report is based.
And, as celebrities share endorsements through their social media platforms, helping drive support for the strike, this strike has the potential to motivate workers in other sectors to organize and strike, says Pieczkolon, as he prepares for his first strike.
"I think that if our labor movement can inspire other labor movements to keep going and to stay strong, and be willing to stand up and walk out, if that's what it takes to get the respect you deserve, and the rights you deserve as an employee, then I think that's a good thing."