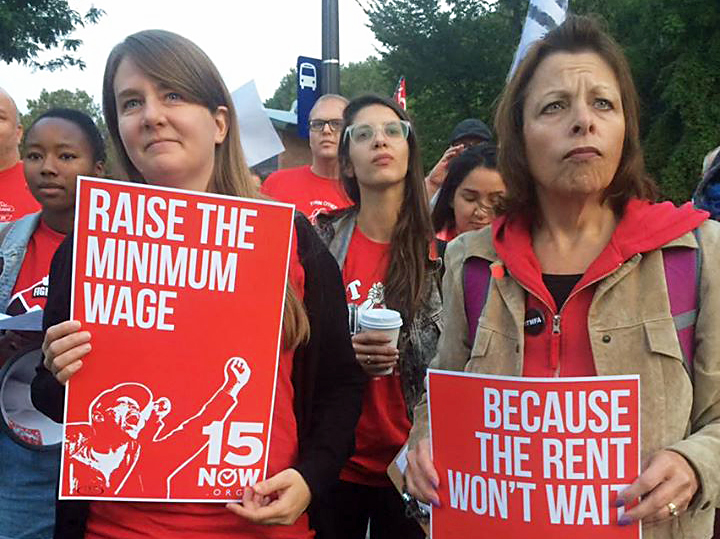 Share
It's Time For Bold Action, and Unions are Up To The Challenge
|
Share
Happy New Year, union families! We've turned the page to welcome 2020 and the opportunities and challenges it promises to bring.
I was proud to have been sworn in as president of the St. Paul Regional Labor Federation during our January delegate meeting. I am grateful that you've entrusted me, as well as the federation's dynamic board, to carry on the hard work undertaken during the leadership of our previous president, Bobby Kasper, and to build on the progress we've made together as a movement.
We all know working people are under pressure, but they are also fighting back in exciting ways. Health care workers are organizing with community allies to prevent the closure of two St. Paul hospitals, so that our neighbors who need medical care will continue to have the access they deserve. Folks working two or even three jobs to provide for their families are declaring together, "One Job Should Be Enough." And in the construction industry, union and non-union workers are banding together to combat human trafficking in our state.
These are bold actions to take, and it's a time for bold action. We are experiencing historic inequality in our country. The Trump administration continues to level attacks against workers and their rights to form unions and negotiate fair contracts with their employers. The administration continues to target refugees and immigrants. And it is eroding the rights of our LGBTQ family members, and of our friends and neighbors who worship in mosques and synagogues.
The stakes are high in 2020. Despite everything that appears to be stacked up against us, I am feeling joyful and optimistic because this year we can change things. Minnesota's trade unionists are powerful changemakers. We get things done by showing up in solidarity, by supporting each other on picket lines and at public meetings, and by inviting union members and community allies to join us in this work. And we can absolutely be changemakers by participating in political processes throughout the coming year.
Precinct caucuses will be held Tuesday, Feb. 25, at 7 p.m. across our state, and anyone who will be eligible to vote in the November general election is able to participate. Union members can start the process of shaping their political party's platform by bringing resolutions to the precinct caucus. They can also select, or run to be, delegates at future conventions, where party endorsements will occur. Unfamiliar with the caucus or convention process? We will host a training especially for union voters Feb. 18.
Additionally, Minnesotans will have an opportunity to vote in presidential nomination primaries on or before Tuesday, March 3. Registered voters will be able to select a ballot for either the Democratic-Farmer-Labor Party or the Republican Party, and will be able to vote for one candidate on their ballot. The political parties must use presidential primary results to choose their delegates to the national conventions, where the party's final candidates are ultimately nominated. We won't all have the opportunity to attend a presidential nominating convention this year, but every eligible voter in Minnesota has the ability to participate in a meaningful way.
Of course, unions and labor federations at the local, state and national levels will also endorse candidates for public office this year. In the coming months, the St. Paul Regional Labor Federation will screen and endorse candidates for local office and will participate in processes to help endorse candidates for state and federal offices.
Once endorsements are made, we'll get to work. I hope I'll see you in the streets, on the doors and at the polls in November.
Solidarity!
Kera Peterson is president of the St. Paul Regional Labor Federation, AFL-CIO, representing more than 100 affiliate unions with over 50,000 members in Chisago, Dakota, Ramsey and Washington counties.