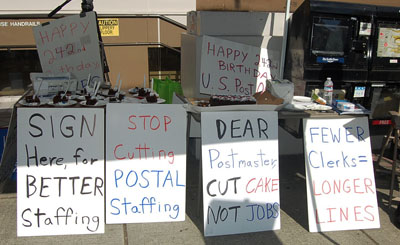 Share
Letter Carriers president questions Postal Service management
|
Share
Editor's note: This story is corrected from an earlier version.
A two-cent cut in the price of a first-class stamp, which cut Postal Service revenue by $500 million in the last three months and $1.5 billion in the first nine months of its current fiscal year, put USPS back in the red so far this fiscal year, a top postal union leader says.
Had the cut not slid through, the service would have earned almost $1.4 billion through the first three quarters of the year, rather than losing $55 million in that time, adds National Association of Letter Carriers President Fredric Rolando.
Still, he notes, the agency's report "shows the underlying business strength of the U.S. Postal Service" because the loss was so small despite the revenue drain from the price cut.
The Postal Regulatory Commission rolled back stamp prices last year, the first price cut since 1919.
"The April 2016 rollback in stamp prices…makes little financial sense because the Postal Service already has the industrial world's lowest rates. The rollback reduces revenue at USPS – which gets no taxpayer money – by $2 billion a year," Rolando explained.

"The figures would be on a par with those of the past three years, which had a combined operating profit of $3.2 billion. We would be talking about a government entity producing an impressive operating profit through earned revenue."
Rolando again also called for enactment of legislation permanently solving USPS' financial problems by killing the $5.5 billion USPS yearly prepayment of future retirees' health care costs – an unique prepayment the GOP-run Congress imposed a decade ago.

Other postal unions had no immediate official comment on the USPS' financial report, but the situation out in the field was another matter. That's because the USPS continues to consolidate and close mail distribution centers, costing jobs and drawing protests, this time led by the Postal Workers and the Mail Handlers/Laborers.
On Postal Heritage Day – the Postal Service's 242nd birthday – on July 26, APWU locals took to the streets in Seattle and in Charlotte, N.C., to protest those cuts. Another anti-cut protest occurred at the Burien Post Office in Seattle on Aug. 10, reported The Stand, the state AFL-CIO's news website.
"You can expect longer lines and service cuts anyway because the agency has plans to eliminate 12,000 clerk jobs in Washington state and across the nation. In the Seattle installation alone, 86 jobs already have been lost and more cuts are planned," the Greater Seattle APWU Local told the website.