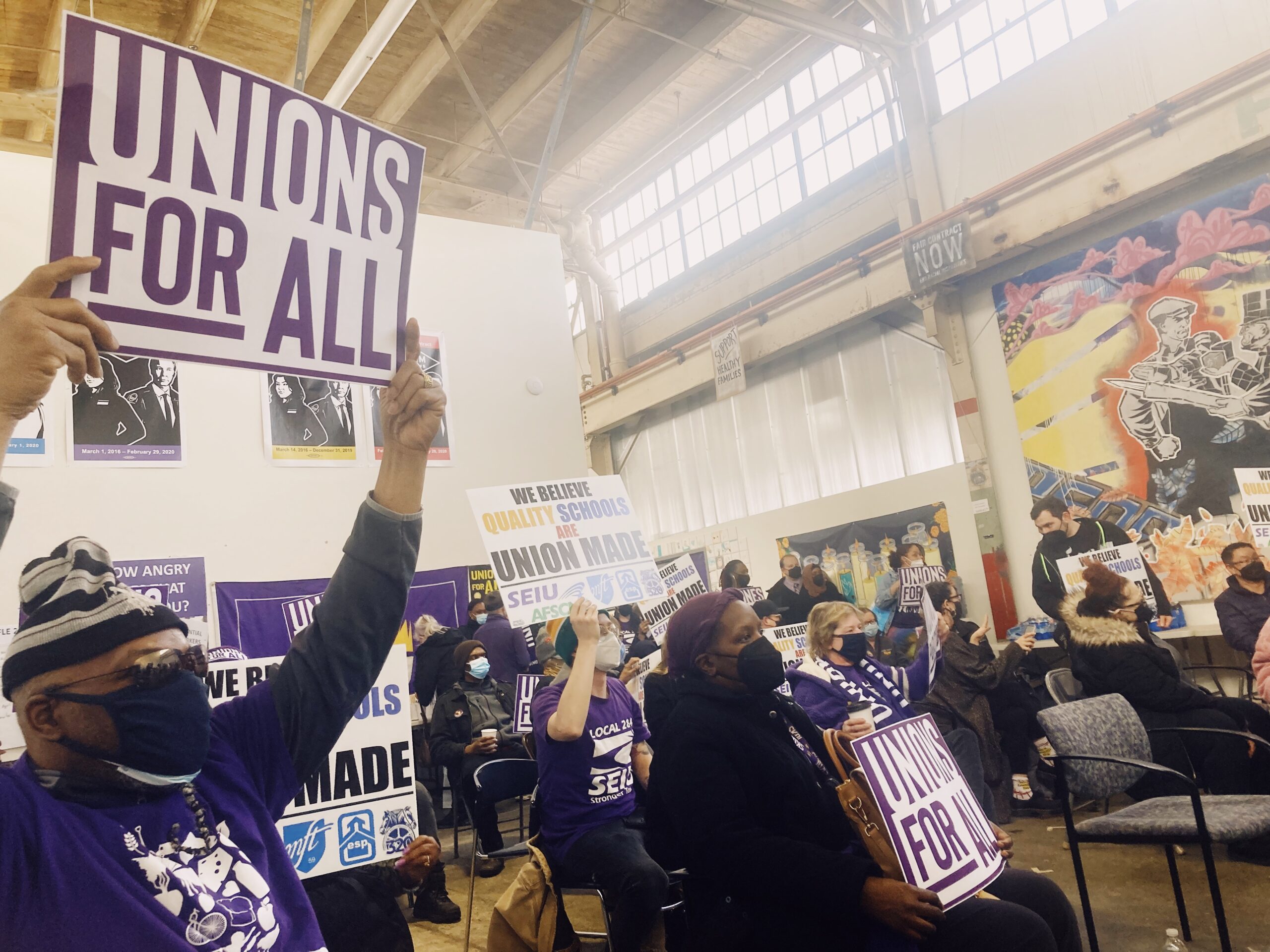 Share
Minneapolis Public Schools Food Service Workers Vote to Authorize Strike
|
Share
"If I was there for this check, I wouldn't be there," said Lavance Dixon, a food service worker in Minneapolis Public Schools. "Every year they gotta find somebody different, but when I came there, I know how they feel–I was once them. I was once those kids. I show them love and let them know that I care about them."
For the last five years, Dixon has worked at Harrison Education Center, where he feeds economically disadvantaged students with behavioral problems.
Dixon is a member of SEIU Local 284, which represents over 10,000 school support staff in the state of Minnesota. Around 200 workers in the MPS district have been waiting for a new contract for a year and half. On Wednesday, members held a rally before voting 98.5% in favor of authorizing a strike. Mediation with the district is scheduled for March 11, and if an agreement isn't reached, workers can begin a strike on March 22. Just a week earlier, Twin Cities educators from MFT Local 59, its ESP chapter, and SPFE Local 28 filed their intent to strike, and if an agreement isn't reached, they could be on the picket line March 8.
Dixon, who lives in North Minneapolis and helps care for six grandchildren, has been offered a 24-cent raise after his title was changed from cook to coordinator, which he said isn't enough with rising rent and other costs. "I'm worried about their future, I wanna be able to take care of them," said Dixon of his grandchildren.
Dixon's sister, Cynthia Gross, has been in food service at MPS for 30 years and is a member of the bargaining team negotiating with the district.
"We know we are essential," said Gross in a press release. "It's time for the district to step up. We were there during COVID. We love these kids. I've been here for 30 years because we love these kids."
On February 21, Local 284 held a presser to announce the strike authorization vote. Workers talked about their experiences in the schools before and during the pandemic. One thing they're pushing for is $1 raise per hour each year of the contract.
"I hadn't had a raise in 10 years," said Gross. "And when I got a raise it was 50 cents. It made a difference, but not a big difference. Our healthcare is the highest in the district and we're the lowest paid and work the lowest hours. It's not affordable."
Genna Deprey is a food service coordinator for MPS. "During COVID, we've served millions of meals to our students, yet we've been waiting over a year and half to get a fair contract," said Deprey. "We're there for MPS students. But to be there we're putting our own safety and the safety of our families on the line every day."
Food service workers in the schools are hourly workers who don't have access to unemployment insurance and have to find work during summer and holiday breaks. Ken Nelson has been in food service for over 45 years and works as a coordinator at Patrick Henry High School. "Whoever designated us as low-wage workers only benefits somebody who's making money off of us," said Nelson at the rally. "Our single hour of work is no different than anybody else in this school district or anywhere in this state or any worker…we are highly trained, we do millions of dollars worth of work and we need to be compensated. We need year-round payment."
Like other essential workers, food service workers have been navigating parenting, loss, and health struggles through the pandemic.
"To be underpaid is a form of disrespect," said Tiffany Bracey at the presser. Bracey is a mother of five who has worked in food service at MPS for six years. In 2021, Bracey experienced the loss of her father, her husband, and two grandsons. "We're out here struggling to feed our children," said Bracey. "I just wanna be able to have a job to be able to support my family. If this happened to you or your family, would you be okay with it?"