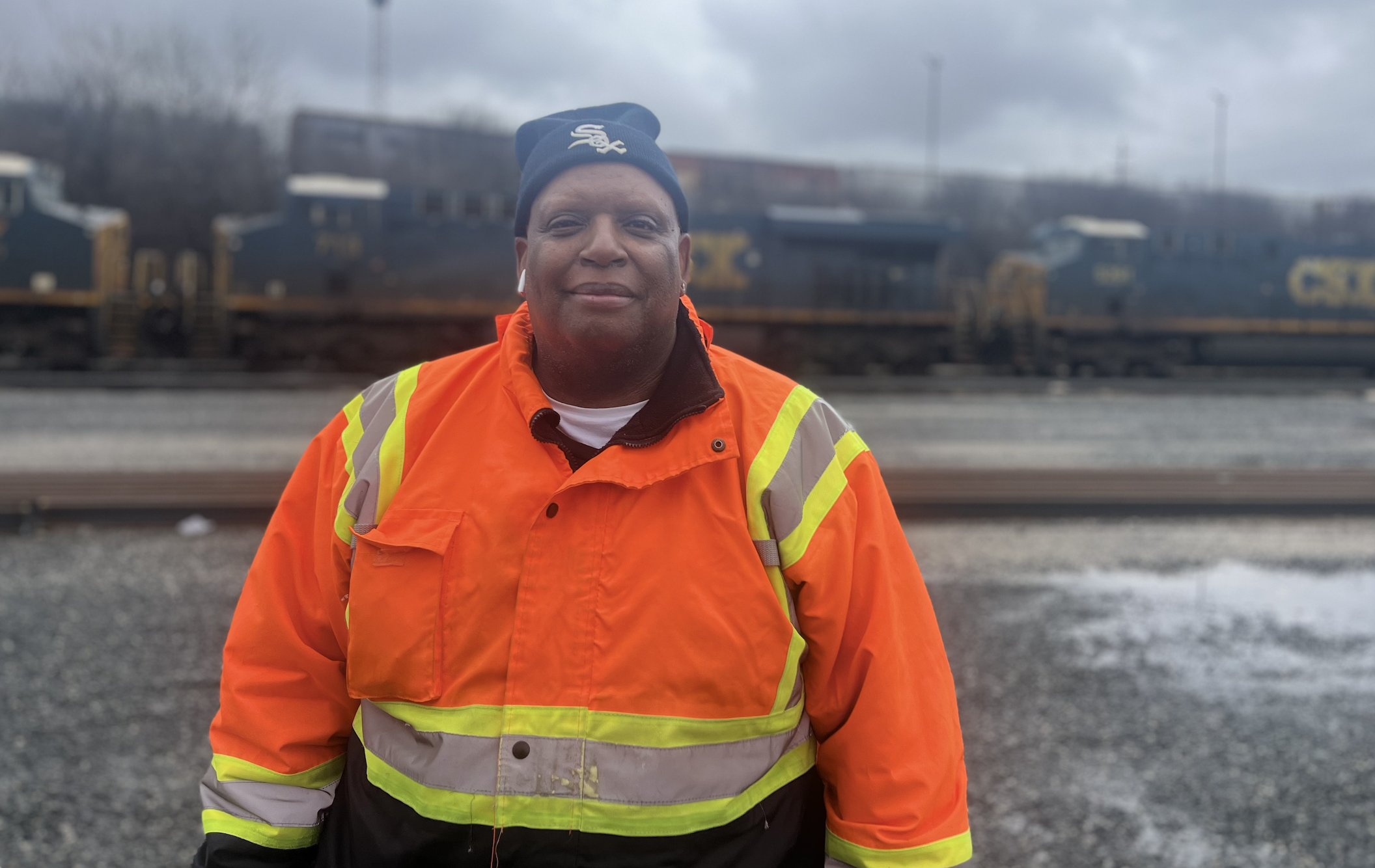 Share
The Filthy Emissions of Railroad Locomotives—and the Rail Unions Sounding the Alarm
|
Share
This article is a joint publication of Workday Magazine and The American Prospect.
After working as a rail crew transportation driver for nearly 13 years, Larry Hopkins says he is starting to worry about his health. "Every day that I work, I'm being exposed to the diesel fumes that are bad for our communities," says the 56-year-old who was born in Blytheville, Arkansas, and now lives on the southwest side of Chicago.
Hopkins works for Hallcon Corporation driving railroad crews, conductors, and engineers to and from rail yards and hotels. His primary pickup and drop-off point used to be Corwith Yard, southwest Chicago's massive intermodal rail yard that was once the largest in the world. But in recent weeks, he's been on the road, transporting crews to and from rail yards across Illinois. "Even if you're picking up crews outside of a railroad, you are still close enough to those locomotives that are giving out the fumes that are polluting our air," he says.
There is good reason for Hopkins to be concerned. Locomotives typically run with diesel engines that emit nitrogen oxides and particulate matter, both of which are known to harm human health—and even cause premature death. The problem is particularly severe for locomotives that operate within rail yards, making short transfers or assembling trains, because they stay in a small area and are commonly the oldest, dirtiest ones in service. For Hopkins and other members of his union, United Electrical, Radio and Machine Workers of America (UE), this problem has a cause: inadequate regulation.
Insufficient federal oversight, and the recklessness of the railroad industry, was spotlighted by Norfolk Southern's fiery derailment in East Palestine, Ohio, on February 3. But some workers say these problems extend to locomotive emissions, which are not as explosive, but proven to be deadly.
Rail crew drivers like Hopkins are teaming up with some of the workers who make locomotives to demand improvements. Scott Slawson is the president of UE Local 506 in Erie, Pennsylvania. The roughly 1,500 members of his local mostly manufacture heavy-haul freight locomotives, along with some passenger trains like Amtrak, and other vehicles. His members, he says, specialize in making what are known as "Tier 4" locomotives—which are held to the cleanest standards under Environmental Protection Agency (EPA) regulations, though they still have diesel engines.
He is now part of an effort to spread higher standards across the country. Slawson is a leader in UE's "Green Locomotive Project," which is aimed at compelling companies to upgrade to Tier 4 standards or higher for locomotives that travel long hauls, and zero-emissions technologies—like electric or battery—for those locomotives that move within rail yards. "We want to start forcing these private companies, such as the railroads, to start replacing their fleet of old noxious locomotives with newer more carbon-friendly locomotives," says Slawson.
According to Carl Rosen, general president for UE, the ultimate goal is to make the big changes needed to implement zero-emissions rail technology nationwide, an aim that is in line with the demands of environmental organizations, with rail yards being first priority.
A Complex Lattice of Regulations
Workers are up against a federal regulatory system that is opaque, and has proven slow at improving emissions standards.
In 1998, the Environmental Protection Agency first adopted a tier-based system of regulating the emissions of railroad locomotives. The system establishes allowable emissions according to when a locomotive was manufactured, with newer locomotives held to the highest standards. Tier 0 locomotives are the oldest, and are therefore the dirtiest. Categories go up numerically to Tier 4, which refers to locomotives that were built in 2015 or later, and are the cleanest. The last significant updates to emissions standards took place in 2008—that's when Tiers 3 and 4 were created.
Among the emissions regulated are diesel particulate matter, a toxic air contaminant that can be inhaled and is associated with certain kinds of cancer, and nitrogen oxides, which are harmful to human health. The EPA estimates that Tier 4 locomotives have 90 percent lower particulate matter emissions, and 80 percent lower nitrogen oxides emissions, than a Tier 2 locomotive.
Some in the railroad industry have sought to emphasize the positive impact made by this system of regulations. The Association of American Railroads, an industry trade group, says, "In 2019 alone, U.S. freight railroads consumed some 656 million fewer gallons of fuel and emitted 7.3 million fewer tons of CO2 than they would have if their fuel efficiency had remained level compared to 2000."
But environmental advocates point to a number of shortcomings. These emissions regulations are only implemented when a locomotive is being newly constructed, rebuilt, or overhauled. This means a locomotive may go years with no upgrades. There is also a regulatory loophole that allows a locomotive that is being remanufactured to be remanufactured at the same tier, rather than be brought up to the highest standard—Tier 4.
As a result, the introduction of Tier 4 locomotives has been incredibly slow. The EPA told Workday Magazine and the Prospect that, as of 2020, of the 16,787 locomotives in the Class I line-haul fleet (which bring in the highest revenue), 74 percent are Tier 2 or lower. The Class II and III line-haul fleets are even worse: Of 3,447 locomotives, 93 percent are Tier 2 or lower.
Some argue that the Tier 4 standards are themselves inadequate—having been last updated by the EPA 15 years ago. "The EPA has this regulatory duty to issue standards that are technology forcing and take into account where technology is at the time, and technology has developed a lot since then," says Yasmine Agelidis, senior associate attorney at Earthjustice, an environmental organization. "There's a lot of electronic technology, and there's also battery electric locomotives. There's been a lot of development in that area over the last decade."
In the last seven years, both the San Joaquin Valley Air Pollution Control District and the California Air Resources Board have petitioned the EPA to adopt higher standards for locomotive emissions. When asked about its response to these petitions, the EPA directed Workday Magazine and the Prospect to a press release from November 2022, in which the agency states that it will take some steps that make it easier for states to pass their own regulations, and has "formed a rail study team to evaluate how best to address air pollutant emissions from the locomotive sector."
In the absence of improvements to federal regulations, the California Air Resources Board is poised to vote in late April on a proposal to reduce emissions from locomotives in use in California.
Harms to Human Health
Leaders of the Green Locomotive Project had initially hoped that, with support from Rep. Chuy García (D-IL) and Sen. Bob Casey (D-PA), some of the improvements they were pushing for would be included in spending legislation during the first year of the Biden administration. But after those legislative efforts fell through, Rosen says, the union switched its focus to educating members and the broader public, and devising ways to pressure railroad companies and regulators directly.
According to materials from UE, union members who build locomotives, and played a lead role in spearheading the campaign, "know their own jobs have been tied to fossil fuels but also understand the threat of climate change." But there is also the potential that jobs could be created in the medium term: A shift to Tier 4 locomotives would bring some jobs to UE—the union's Local 618 in Erie and Local 610 in Wilmerding and Greensburg, Pennsylvania, also make locomotives for Wabtec.
And then there's the difficult-to-calculate possibility that a shift to electric or battery-operated locomotives could bring a windfall of new manufacturing and construction jobs. Fritz Edler ran Amtrak trains until 2015 and is now a representative for Railroad Workers United (RWU), a rank-and-file union movement. He says, "Even though it's politically charged, the fact of the matter is that when the crisis around climate gets worse, there will be big changes that take place. And if we aren't part of the lead of how that change gets made, we will be its victims." As part of upcoming bargaining, UE plans to demand that future green locomotives, whatever their technology, be manufactured in Erie, and remain good, union jobs, Rosen explains.
Some UE members also stand to gain immediate health benefits from improved emissions standards, or a transition away from diesel altogether: The union represents roughly 2,000 rail crew drivers who are directly exposed to toxic fumes. For Hopkins, who is the president of UE Local 1177 and vice president for the Western Region of UE, the stakes are personal. He not only works in rail yards, but also lives sandwiched between four of them, including Corwith. "They are to my north, south, east, and west," he says. "I am surrounded by them."
Ed Avol, professor emeritus in the Environmental Health Division for the Keck School of Medicine at the University of Southern California, says it is well established that diesel emissions are bad for human health. "There have been a number of studies over the years looking at truck and train workers and the increased risk of negative health outcomes because of increased exposure," he explains. "There's something about being in proximity to engine emissions that is not good for your health."
A 2004 study published in Environmental Health Perspectives looked at 54,973 rail workers between 1959 and 1996. The researchers found that "lung cancer mortality was elevated in jobs associated with work on trains powered by diesel locomotives."
The negative health impacts also apply to those communities in close proximity to rail yards, which are often predominantly Black, brown, and/or poor. An EPA study from 2014 found that, when winds blow through Chicago's Cicero rail yard toward nearby residential areas, those communities face elevated air pollution. A study published in Preventive Medicine Reports in 2018 examined 18 freight rail yards in California, and found that children who live less than five miles from a rail yard "were at significant increased odds" for an asthma-related trip to the emergency room.
According to Agelidis, switcher locomotives that operate within rail yards "are often the dirtiest, oldest locomotives out there, which often get downgraded to switcher service after they operate as line-hauls."
Air pollution, alongside other forms of contamination, has spurred organizing among environmental justice groups. In a March 1 public conversation with leaders of the Green Locomotive Project, Ivette Torres, research consultant for the People's Collective for Environmental Justice, said San Bernardino, California, residents are still impacted by a massive train derailment and failure that happened in 1989, facing serious health issues like asthma and cancer. "It feels like nothing has changed since that huge incident," said Torres.
Hopkins says, "The older locomotives and the combustion and diesel fumes that are poured into the air is a major concern for me, because those chemicals can affect our health in some way. My youngest son and oldest daughter pretty much live with me, so they're affected by that."
A Changing Climate
Scientists agree that a rapid shift away from fossil fuels is essential if humanity is to avoid the worst-case scenarios of climate change. It is difficult to imagine this transformation happening without a significant shift to rail, which, even with the present-day regulations, is overall far more climate-friendly than transportation by road or air.
But environmental activists warn that this should not give the rail industry license to operate without robust regulation. As the Federal Railroad Administration acknowledges, "rail's reliance on diesel fuel leaves a large challenge in reducing GHG emissions from the rail industry."
Like UE, Earthjustice is also pushing for a shift to zero-emissions locomotives—those powered by electricity that comes through an overhead catenary system (that is, overhead wires) are a good option, says Agelidis. Electric technology is already used to operate rail systems around the world, from Ethiopia to Switzerland.
But workers and environmental groups are up against a railroad industry that has significant political influence, and the Association of American Railroads has aggressively opposed any mandate to electrify freight rail. UE and RWU are both calling for the industry to be placed under public ownership, arguing that the only way to achieve the safety and environmental changes that are needed is to remove profit motive from the equation. This call took on new urgency after the ecological disaster in Ohio early last month.
Rosen says that such a shift is important if we ultimately hope to attain fully electric rail. "What needs to happen here in the long run is going to require substantial capital investments that a profit-making corporation is going to refuse to do, because they are only interested in short-term profits and what they can pay out to their shareholders and executives now," he says.
Hopkins says he thinks of his four grown children, wife, and two grandchildren, the youngest of whom is ten days old, when pushing for environmental and public-health improvements to the industry where he works and lives. "If we can get more awareness, insight, participation, we can see how far this can go," he says. "I look to their future."