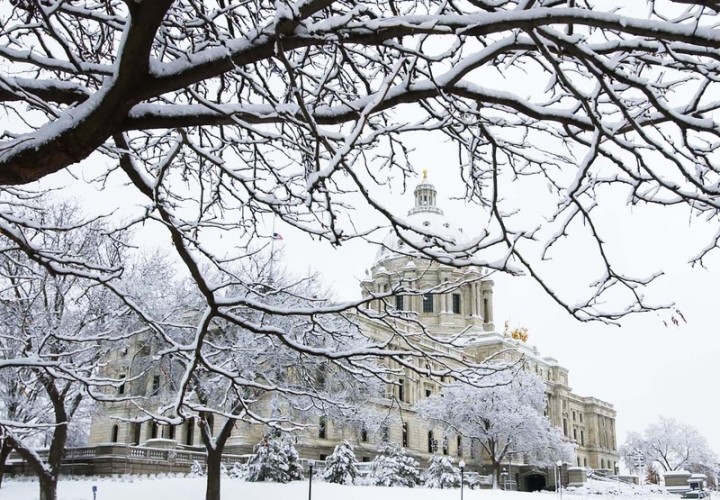 Share
Union and Allies Respond to the Governors Proposed Budget
|
Share
Yesterday the Office of Governor Walz & Lt. Governor Flanagan released a proposed "COVID-19 Recovery Budget."
$1,636 billion in revenue ($968 million in FY 2022, $668 million in FY 2023)
Expand Working Family Credit
Increase income threshold for first tier individual income bracket
$7 million for Angel Tax Credit
Establish fifth tier income tax rate for household incomes above $1 million, $750,000 head of household, and $500,000 single
1.5% tax on capital gains and dividend income of $500,000 – $1,000,000 and 4% on income over $1,000,000
Tax on foreign income repatriated to the United States
Increase corporate franchise tax rate from 9.8% to 11.25%
Reinstate estate tax exclusion at $2.7 million – small business and farms would still be exempt to $5 million
EDUCATION:
$745 million increase in e-12 education spending
$300 million increase of general fund formula for biennium
Dedicate $575 million of federal funds to expand summer programming
BUSINESS/ECONOMIC RECOVERY:
$50 million for small business forgivable loan program
$1.3 million more for emergency assistance grants
WORKING FAMILIES:
12 weeks of paid leave for individuals with a serious medical condition, to care for a family member, or care for a new child
One-time payment up to $750 for those who qualify for Minnesota Family Investment Program or General Assistance
Budget News Release by FluenceMedia
Unions and allies responded with a flurry of statements.
Minnesota AFL-CIO President Bill McCarthy issued the following statement:
"Governor Walz's budget proposal is a bold plan that invests in priorities to help working people recover from the COVID-19 pandemic while laying out a vision for a more just and equitable state."
"While working Minnesotans lost their jobs, worked from home while having to care for and support children in distance learning, or continued to report in person for critical frontline jobs during this pandemic, the richest people and biggest corporations continued to report record income and profits. Governor Walz recognizes this unjust reality in his budget and calls for those who have benefitted the most to pay their fair share in taxes."
Essential workers in Minnesota who are members of the Service Employees International Union (SEIU) praised Governor Walz's budget.
A highlight of the budget for SEIU is the inclusion of the new contract for over 20,000 home care workers with SEIU Healthcare Minnesota that would lift wages for this critical work to $15.25 by 2022, increase PTO and time-and-a-half holidays and boost training for a workforce of mostly women and people of color who have continued providing world-class care to Minnesota seniors and people with disabilities throughout the pandemic.
Home care work Antionetta Giovanni shared what it would mean for frontline essential workers like her to see this contract get passed by the legislature and signed into law:
"In Minnesota we want a state where every person can get the care they need, no matter where we live, what we look like or how much money we have. Governor Walz's budget includes the home care contract that will help move us towards that reality by raising the wage floor to $15.25, increasing PTO and time-and-a-half holidays and boosting training," aid Giovanni. "I'm also happy to hear that Governor Walz has made the decision to push for the wealthiest Minnesotans and corporations to pay more in taxes to make sure all of us can thrive. This pandemic has seen so many of us struggling to get by while the rich got richer. It's great that this budget asks more of those who have so much and works to share the wealth and fund our future."
The Minnesotans for Paid Family & Medical Leave coalition, which brings together over 30 organizations who represent hundreds of thousands of Minnesotans across the state, praised Governor Walz's inclusion of the Paid Family & Medical Leave bill in his budget proposal released today:
"Minnesotans are ready for bold action that sees us create the strongest state-run Paid Family & Medical Leave in the country. With its inclusion in Governor Walz's budget, it's time for the House and Senate to get to work passing this hugely popular legislation that would help thousands of families across Minnesota."
Director of Rainbow Child Development Center and a leader with ISAIAH's Kids Counts on Us Maria Snider stated that. "In this moment, we have an opportunity to build a new contract in our society. Thank you Governor Walz for putting forward a budget that puts families first."
The proposed budget includes emergency COVID paid leave for health care providers. A statement from the Minnesota Nurses Association expressed gratitude for the inclusion and look forward to working with the administration and legislature to strengthen and expand this this leave.
"Nurses appreciate the efforts to make it right with nurses," MNA President Mary C. Turner, an ICU nurse at North Memorial. said. "Let's make sure all of our essential workers don't lose their lives or their livelihoods because we are on the frontlines."
MNA nurses are supporting HF41, chief authored by Rep. Cedrick Frazier (DFL- New Hope) and SF331, introduced by Sen. Erin Murphy (DFL- Saint Paul). These two bills would provide up to 100 hours of Emergency Leave for full-time essential workers during the peacetime emergency. Part-time workers would be eligible for up to 1.25x their average two weeks' pay. They are only eligible for missed time at work that is not covered by any other federal or state COVID benefits.
"Nurses are having to quarantine and miss time at work, which is costing them days and weeks of pay," said Turner. "Nurses lose pay when they are exposed to a COVID-positive patient, and they cannot prove it happened at work. They lose pay when they have had to wait for a COVID test. They lose pay when they have to wait for test results, which can take as long as a week," Turner told legislators at the committee hearing for the bills.