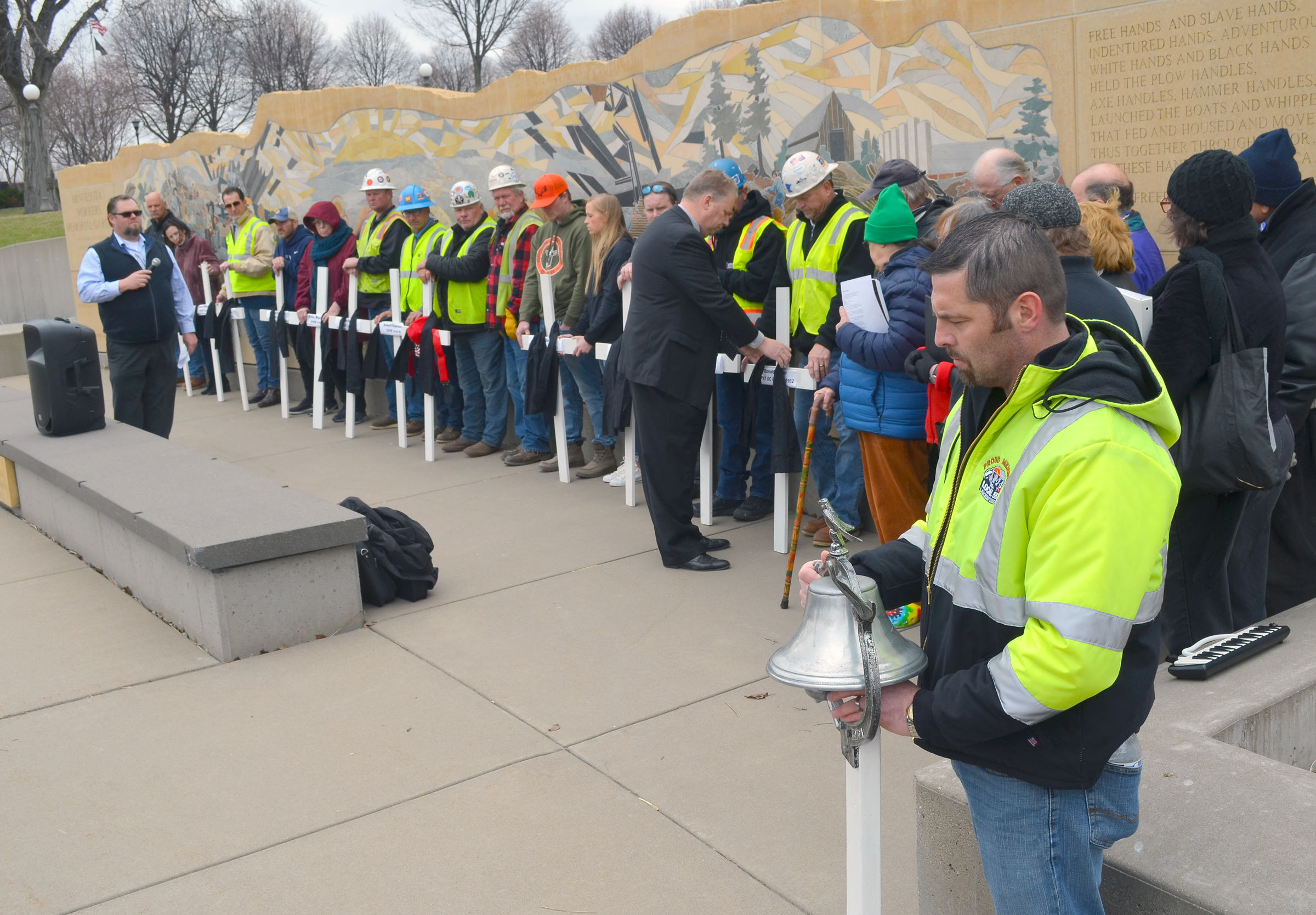 Share
Twin Cities Building Trades councils observed Workers Memorial Day with a ceremony on the Capitol grounds today, remembering union tradespeople who died from workplace injuries and illnesses over the past year and rededicating their organizations to the cause of safer worksites.
"Every worker, regardless of their language, their gender, their skin color, their age or their citizenship status, has the right to be safe and healthy on the job," Minnesota Labor and Industry Commissioner Roslyn Robertson said in remarks during the ceremony, held in the Workers Memorial Garden.
Standing along a stone memorial wall, union leaders and family members held 12 white crosses with the names of fallen union members: Neil Boser of Laborers Local 563; Gerald Peterson, Eric Raddatz, Dean Sinwell and Robert Vogelsberg of Operating Engineers Local 49; Duane Peterson, Craig Hansen, Robert Winczewski and Eric Dennis of Glaziers and Glassworkers Local 1324; George Kisel and Gary Newman of Heat and Frost Insulators Local 34; and Donald Hopper of Painters Local 1962.
Minnesota Building and Construction Trades Council President Joe Fowler chimed a bell as each name was read over the loudspeaker, and a black sash was draped over each cross.
Another cross held the name of longtime Carpenters union member and volunteer Darrell Ray, who died April 19. Ray was a fixture of the trades' Workers Memorial Day ceremonies, usually as the person ringing the memorial bell.
Ramsey County Commissioner Jim McDonough, a longtime member of Glaziers Local 1324, encouraged those gathered to imagine a Workers Memorial Day when that bell remains silent and "there are no more crosses" marking the deaths of construction workers.
"Memorials like this remind us of the work that's yet to be done," McDonough said. "And who's going to do that work if it's not you and me standing together in solidarity?"
Robertson said upholding labor rights is an important part of making sure workplaces are safe.
"We must listen to the voice of the workers because it's those workers who really know how to do their jobs safely," she said. "We have to encourage those workers to be able to stand up when they see unsafe practices taking place."
The annual day of reflection comes each year on April 28, the anniversary of the creation of the federal Occupational Safety and Health Administration (OSHA) in 1971. Across the country and throughout the world, working people pause to remember workplace fatalities and commit to improving safety on the job.
An annual report from the AFL-CIO, "Death on the Job: The Toll of Neglect," found that U.S. workplaces have much room for improvement when it comes to safety. Using 2020 employment data, the report found that hazardous working conditions led to 340 deaths every day that year, a rate of 3.4 fatalities per 100,000 workers.
The fatality rate was three times higher in the construction industry in 2020, and nearly four times higher among transportation and warehouse workers. More than a third of fatalities occurred among workers ages 55 and over.
Minnesota saw 67 workplace fatalities in 2020, according to the AFL-CIO report; 28 came as a result of transportation incidents.
Overall, employers reported nearly 3.2 million work-related injuries and illnesses in 2020, according to the report, and musculoskeletal disorders continued to make up the largest portion injuries, at 21%.
Latino and Black workers remained at greater risk of dying on the job than other workers, the report found.
Researchers also said underreporting of workplace injuries and illnesses is widespread, estimating the true tally of work-related injuries and illnesses at between 5.4 million and 8.1 million each year.
The AFL-CIO, the nation's largest labor federation, is calling on both OSHA and the Mine Safety and Health Administration (MSHA) to enact stronger job safety and health protections, for Congress to increase resources for job safety agencies and for workers to have a real voice on safety and health in our workplaces without the fear of retaliation or intimidation.
"That's tens of thousands of families losing a parent, a child, a sibling, every single year," AFL-CIO President Liz Shuler said. "Latino and Black workers specifically remain at greater risk of dying on the job than all workers. That is, frankly, unacceptable."