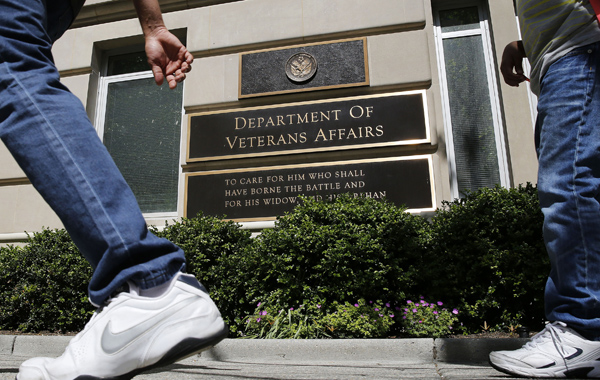 Share
VA whistleblowers reveal continued retaliation
|
Share
From Shreveport to San Juan, Veterans Affairs whistleblowers complain that VA managers continue to retaliate against workers who expose wrongdoing.
And while a Senate committee that oversees the VA continues to probe the ongoing problems there, the union that represents the agency's 220,000 workers, the American Federation of Government Employees, is going to bat for the whistleblowers by backing legislation to increase their protections.
The issue is important as the number of veterans, especially those who survive major injuries and ailments – such as post-traumatic stress disorder and disabling physical injuries – mushrooms as a result of the wars in Iraq and Afghanistan. Prior whistleblowers, including AFGE members, revealed management manipulation of records to cover up long wait times for treatment, and in some cases non-treatment, of the vets.
Their revelations led to a shakeup at the top of the agency and legislation, crafted by then-Senate VA Committee Chairman Bernie Sanders, Ind.-Vt., giving its new VA Secretary more power to hire and fire managers for misconduct. But witnesses told the Senate Homeland Security and Government Affairs Committee late last month that the culture change at the top of the agency hasn't filtered down.
Instead, they testified, retaliation continues. In one case, it expanded: When Rosayma Lopez, a mother of three who headed the San Juan hospital's freedom of information office, truthfully answered whistleblower Joseph Colon's information requests and "failed to find anything against me," she was threatened with firing, too, he said.
And Christopher Wilkes, a mental health recovery specialist at the VA hospital in Shreveport, La., learned of "number manipulation, scheduling manipulation, and other unethical acts." When he raised the problems at Mental Health Department leadership meetings, "very little was done to correct the issues," he testified.
All this does not leave AFGE happy, which is why the union backs legislation (S1682) by Sen. Richard Blumenthal, D-Conn., to – among other things – further strengthen whistle-blower protection.
"AFGE has seen a number of whistleblowers, especially those in licensed medical and behavioral health professions, suffer great harm to their careers as a result of retaliatory negative performance evaluations. Current law does not provide clear Office of Special Counsel jurisdiction over employees filing such complaints," the union told the committee in written testimony for the record. Blumenthal's bill "closes this major gap in the law."
And another section of the bill requires all VA managers – not just political appointees – "be evaluated for addressing poor performance and misconduct, and their abilities to improve employee engagement," the union said.