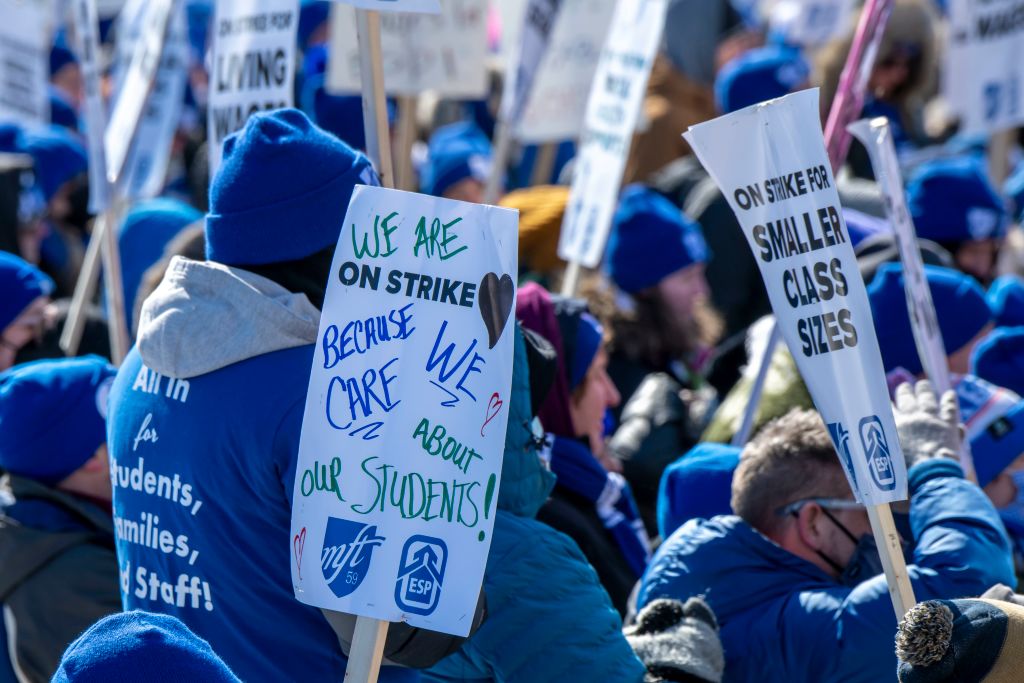 (Photo by: Michael Siluk/UCG/Universal Images Group via Getty Images)
Share
What Captive Audience Meetings Are—And Why Minnesota's Labor Movement Wants to Ban Them
|
Share
Imagine that there have been rumors of unionization being discussed among employees at your workplace. Then, one day, when you show up to work, your supervisor informs you that all employees will be attending a "training session." Once you arrive at this meeting, you're told you can't leave and you can't ask questions, and you are directed just to listen to the speaker. You take your seat, and a person from human resources introduces what they call "a labor professional." You spend the next few hours listening to people tell you why unions are bad, how they are going to interfere with your relationship to your employer, and how they will cost you more than they're worth. If you try to leave, you might face discipline, such as being written up or even fired.
This situation is what's known as a "captive audience meeting." Under current law, employers can hold these meetings on company time, forcing employees to listen to their political views about unions. In fact, captive audience meetings are regularly deployed as a weapon to dissuade unionization.
But now, Minnesota's labor movement is trying to change that.
Concerns About Coercion
Recent polls have found that 71% of Americans approve of unions. Despite such favorable ratings, private-sector union membership remains around 6%. Research identifies a correlation between "captive audience" meetings and unions losing elections. Labor organizations have vehemently opposed such meetings for years, arguing that they violate employees' rights under the National Labor Relations Act (NLRA) and have contributed to the disparity between union approval and membership. This argument has been made because, while labor law protects an employer's right to present its views on unions during company time, unions are limited in their access to employees. There is no existing mechanism that provides unions equal access to employees to counter an employer's claims or to present their case, creating an unfair advantage in the employer's favor.
Captive audience meetings allow employers facing an organizing drive to gather large groups of employees on company time and push their views about a union or unions in general. Employees who fail to attend or attempt to leave such meetings can be disciplined. An employer is allowed to make statements and predictions about the union's effect on the company so long as objective facts support the comments. However, the employer's message cannot contain a "threat of reprisal" if their employees choose to organize, nor a "promise of benefit" if their employees refrain from organizing (although it is illegal, workers report that employers do use captive audience meetings to make explicit and implicit threats and promises all the time). Currently, the National Labor Relations Board (NLRB) does not allow employers to hold such meetings within 24 hours of an election due to their highly influential nature.
Employers haven't always been allowed to hold captive audience meetings. Before the enactment of the Taft-Hartley Act in 1947, the NLRB had held that captive audience meetings were inherently coercive and violated employees' rights under the NLRA. Taft-Hartley added Section 8(c) to the NLRA, guaranteeing employers' right to free speech. Following the NLRB's decision in Babcock & Wilcox Co. interpreting Section 8(c), it has been legal for employers to require employees' attendance at captive audience meetings for almost 76 years.
Undermining Union Drives
Research has shown that captive audience meetings may dissuade employees from joining a union. A study by the Economic Policy Institute, conducted from 1999 to 2003, found that 96% of employers faced with a unionization drive implemented a campaign against the union. During that same period, 89% of employers faced with union drives held captive audience meetings, each averaging more than 10 meetings per year, with 75% hiring management consultants to discourage employees from organizing. The research shows that when captive audience meetings have been used, the union's election win rate dropped by 26%.
When a union loses an election, it's likely the result of a wide range of employer tactics, and the loss can't be attributed solely to the use of captive audience meetings. In reality, employers, and their consultants, use additional tactics (e.g., anti-union mailings and holding supervisor one-on-ones) in their campaigns to prevent employee unionization. Regardless of any additional measures taken by an employer, the research indicates that captive audience meetings remain a frequently used weapon in an employer's arsenal for preventing unionization.
For the last few decades, unions have argued that this employer tactic has had a devastating effect on their organizing efforts. The current General Counsel for the NLRB, Jennifer Abruzzo, is taking notice. She issued a memo in 2022 recommending the overturn of this long-standing precedent because she believes such meetings are overtly coercive and requiring attendance violates employees' rights under the NLRA. In particular, she says captive audience meetings violate Section 7 rights, which protect an employee's right to engage or refrain from engaging in activities associated with the formation of a union.
However, with the PRO Act, which protects the right to unionize, effectively dead in the U.S. Senate, and Abruzzo's proposed alterations facing an uphill battle, state labor organizations are taking things into their own hands. In 2022, the Connecticut legislature enacted a law banning captive audience meetings. Minnesota is looking to follow suit because under the current federal law employees are forced to listen to employers' views, and unions are not given similar access to employees.
Minnesota Labor Takes Matters Into Its Own Hands
With the Minnesota Democratic–Farmer–Labor (DFL) Party trifecta in the state government, the Minnesota AFL-CIO has made eliminating captive audience meetings a legislative priority. Labor opposes these meetings because they are highly coercive and chill individuals in exercising their right to form a union. Bethany Winkels, executive director of the Minnesota AFL-CIO, specifically identifies captive audience meetings as "barriers," and credits them with obstructing "a key path to organizing." She added in an interview that "these meetings have sunk campaigns."
In response to these concerns, Representative Kaela Berg (DFL-Burnsville) and Senator Zaynab Mohamed (DFL-Minneapolis) are leading the charge in putting an end to these obstacles to organizing. Introduced on March 2, Minnesota House of Representatives Bill H.F. 2442 is modeled after Connecticut's 2022 statute. If passed, the proposed bill will challenge longstanding federal precedent allowing the use of captive audience meetings.
The NLRA and its subsequent amendments gave the federal government (through the NLRB) jurisdiction over private-sector organized labor. The Supremacy Clause of the U.S. Constitution prioritizes federal law over state statutes and local ordinances. This is called "preemption." For this reason, state statutes that attempt to regulate private-sector labor organizing are often struck down by courts. The law in Connecticut is currently facing such a challenge in federal court from a coalition led by the U.S. Chamber of Commerce. This lawsuit could serve as a litmus test for any legislation that Minnesota passes attempting to ban captive audience meetings. The Minnesota AFL-CIO is aware of this hurdle. Regardless, AFL-CIO leadership and the bill's proponents are prepared to move forward in their fight to empower Minnesota workers.
Winkels believes that "we need to sharpen the realities around what [labor] laws were meant to do." Labor's concern is that captive audience meetings are a coercive tool used to discourage union organizing and their use violates the intent of the NLRA. "These meetings happen every day in Minnesota," commented Winkels, "and we need to pull the curtain back on that."