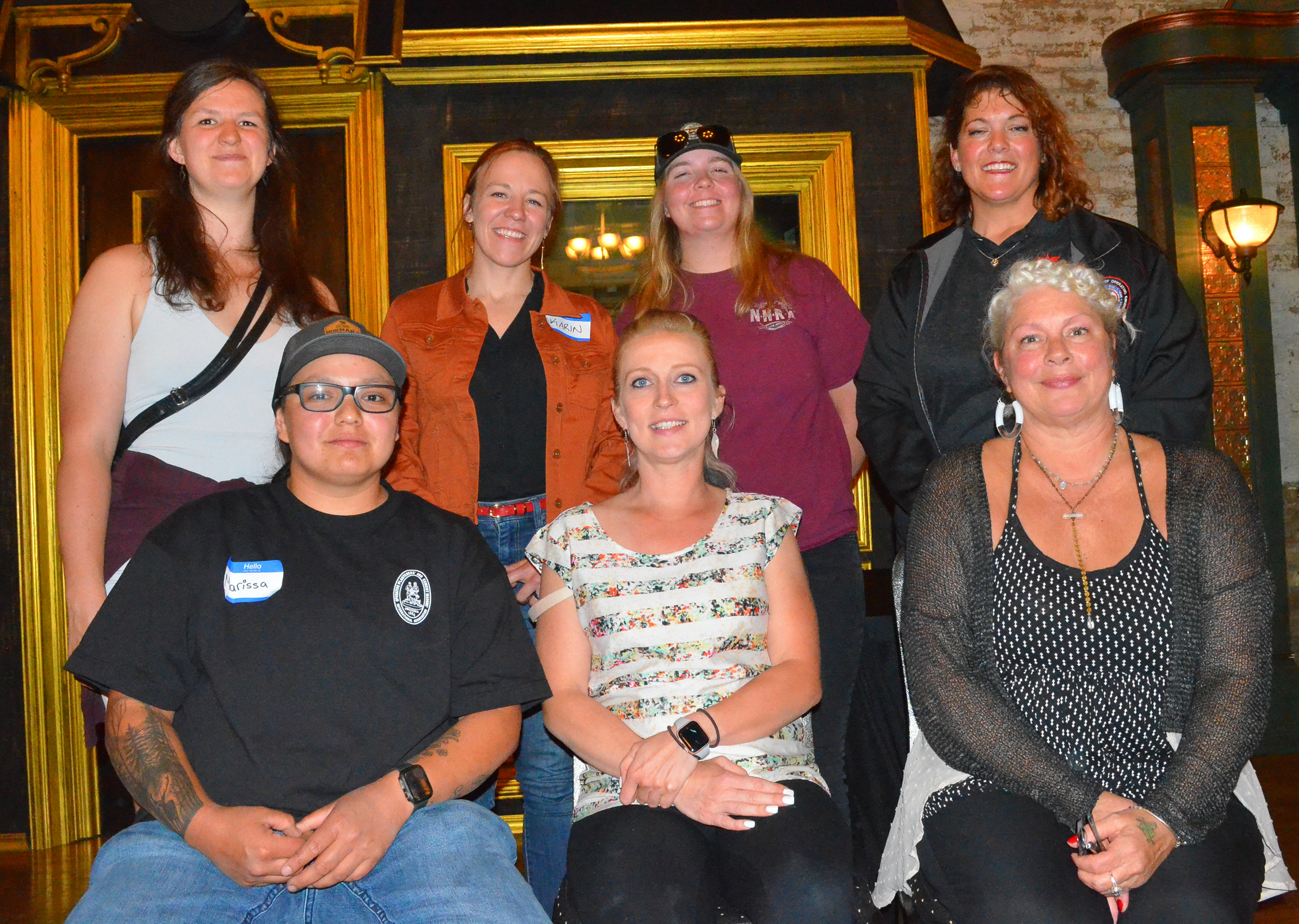 WBS award winners, L to R, include (back) Claire Boeke, Karin Dahlin, Dani Moss, Rosey Grab, (front) Marissa Goodsky, Brittney Bray and Robin Chuhel.
WBS award winners, L to R, include (back) Claire Boeke, Karin Dahlin, Dani Moss, Rosey Grab, (front) Marissa Goodsky, Brittney Bray and Robin Chuhel.
Share
Union tradeswomen and labor leaders gathered June 1 in White Bear Lake for the Women Building Success Awards, a celebration of local apprentices, journey workers and advocates for women pursuing careers in the construction trades.
Women Building Success (WBS) is a Minnesota organization founded in 2017 to recognize and promote the achievements of women in union construction trades. The awards ceremony is among its biggest events of the year, said Barb Pecks, a WBS board member and member of the North Central States Regional Council of Carpenters.
"We do have amazing women out there, and we definitely don't recognize them often enough," said Pecks, who emceed the ceremony.
In a recorded video, U.S. Sen. Amy Klobuchar congratulated the 44 women nominated for WBS awards, and she praised WBS and local construction unions for their ongoing efforts to support tradeswomen and make the unionized construction industry a more welcoming place for women to work.
"When our tradeswomen succeed, our economy succeeds," Klobuchar said. "And when our economy succeeds, America succeeds."
Lifetime Achievement
WBS presented a Lifetime Achievement award to Terri Stave, a retired member, instructor and officer with Elevator Constructors Local 9 who serves on the WBS Board of Directors.
Throughout her career, Stave was a trailblazer both within Local 9 and the International Union of Elevator Constructors (IUEC). In 2016, she became the first woman sworn in as business agent of an IUEC local, and she was one of two women who attended the union's international convention that year. She recently became the first female member to retire out of Local 9.
"When I started as a 19-year-old, and I just went to work, kept my head down and went home," Stave said. But after attending the Tradeswomen Build Nations conference in 2014 and finding only four other elevator constructors, she said, "I decided we've got to do something about this."
Stave started a Facebook group for women in the IUEC, which has grown to nearly 300 members and provides support and connections to organizations like Tradeswomen Build Nations.
Advocate of the Year
Robin Chuhel of St. Paul-based Electrical Workers (IBEW) Local 110received the Advocate of the Year award, with honorable mention going to Rosey Grab, an apprentice with Operating Engineers (IUOE) Local 49.
Chuhel, an Air Force veteran, joined Local 110 in 1994, and she is a union steward in her current job with the St. Paul Public Schools, "a place for her to recruit, train and help retain as many women in our field as possible," Local 110 Business Manager Jamie McNamara said.
Chuhel also has served nearly 20 years in a leadership role with the union's apprenticeship program, often advocating for better pay and benefits for apprentices, McNamara said.
"When Robin would engage apprentices who were women, she would take them under her wing, advising, protecting and teaching the apprentices like they were her own family," McNamara said. "She has not only taught the women in our local how to be better in our industry, she has taught the whole industry how to be better for women."
Journey Worker of the Year
Marissa Goodsky, a member of Cement Masons Local 633, received Journey Worker of the Year honors, with honorable mention going to Brittney Bray of IUOE Local 49.
Goodsky is a graduate of Local 633's summer training program, offered in partnership with the Minnesota Department of Transportation since 2010, that introduces young workers from area tribal nations to careers in the concrete and cement industry.
Goodsky "stood out in that program with her energy and attention to detail," Local 633 Business Manager Dave Schutta said, and in 2015 she began an apprenticeship with the local. Now, she serves as an instructor in the very program that introduced her to the union.
"She's come full circle," Schutta said. "What a mentor she's going to be."
Apprentice of the Year
Karin Dahlin of Minneapolis St. Cloud Pipefitters Local 539 was named Apprentice of the Year. The overwhelming number of outstanding apprentices nominated for the award prompted WBS to name two honorable mention winners: Dani Moss of Laborers (LIUNA) Local 563 and Claire Boeke of the Carpenters.
In addition to the award, winners in each category received a $300 honorarium and a set of Milwaukee tools. Honorable mention recipients received $100 honorariums.