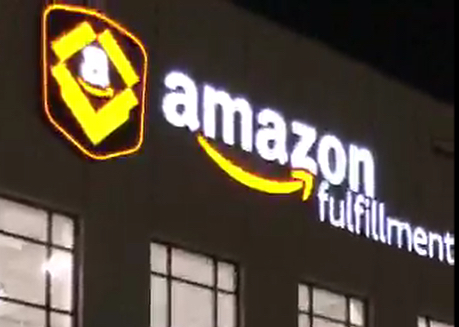 Share
50+ Amazon Workers Walk Out in Shakopee
|
Share
Following news of another firing and the revelation of two positive cases of COVID-19, more than 50 Shakopee Amazon fulfillment workers walked off the job just after midnight Sunday morning.
Workers walked off the job after hearing that Amazon terminated Faiza Osman. Osman had worked at Amazon for nearly three years, and had been staying at home, unpaid, out of concern she could bring the virus to her two children. She is the third worker fired at the facility over the past three weeks
Workers also protested Amazon's elimination of its unlimited unpaid time off (UPT). More than 1,800 workers have signed a petition over the past 72 hours demanding Amazon reinstate the policy. At the Shakopee facility, the UPT changes hit particularly hard, given many of the workers at the facility observe Ramadan. If they run out of UPT, workers will be punished for observing their religion.
"We have been asking for weeks for meaningful paid leave and a clear plan for how Amazon would keep us safe if a positive case was found in our facility. Instead of listening to us, it appears that Amazon has chosen not to reveal the true extent of the spread of the virus and fire the workers who have bravely spoken up," said Hafsa Hassan, a worker at MSP1 and one of the leaders of the walkout. "Now they're even taking away our unlimited unpaid leave, forcing us to make an impossible choice between keeping our families safe or losing our jobs. Amazon has utterly failed to protect workers like me, potentially putting not just us but our families, neighbors, and customers at risk. This is the last straw."
For weeks, frustrations have been brewing at the MSP1 facility among both workers and their communities. In mid-April, workers filed a complaint with the Occupational Health and Safety Administration demanding that Amazon close the facility after reports that a worker at the facility had been told by a doctor that they had COVID-19. Shortly after, Amazon fired two workers who had been outspoken about the risks workers in the facility faced. One of the workers, Bashir Mohamed, had been expressing concerns about the seeming impossibility of socially distancing in the facility.
Even before the COVID-19 epidemic hit, the MSP1 facility had been a hotspot for Amazon worker organizing. In 2018, workers at the facility, which opened in 2016 and has more than 1,000 employees, became the first to force Amazon to improve working conditions in response to their concerns. Workers have also led multiple strikes around working conditions at the facility, around a variety of issues including unrealistic productivity rates and a lack of communication in multiple languages. As many as 60 percent of Amazon workers in the area are of East African descent.