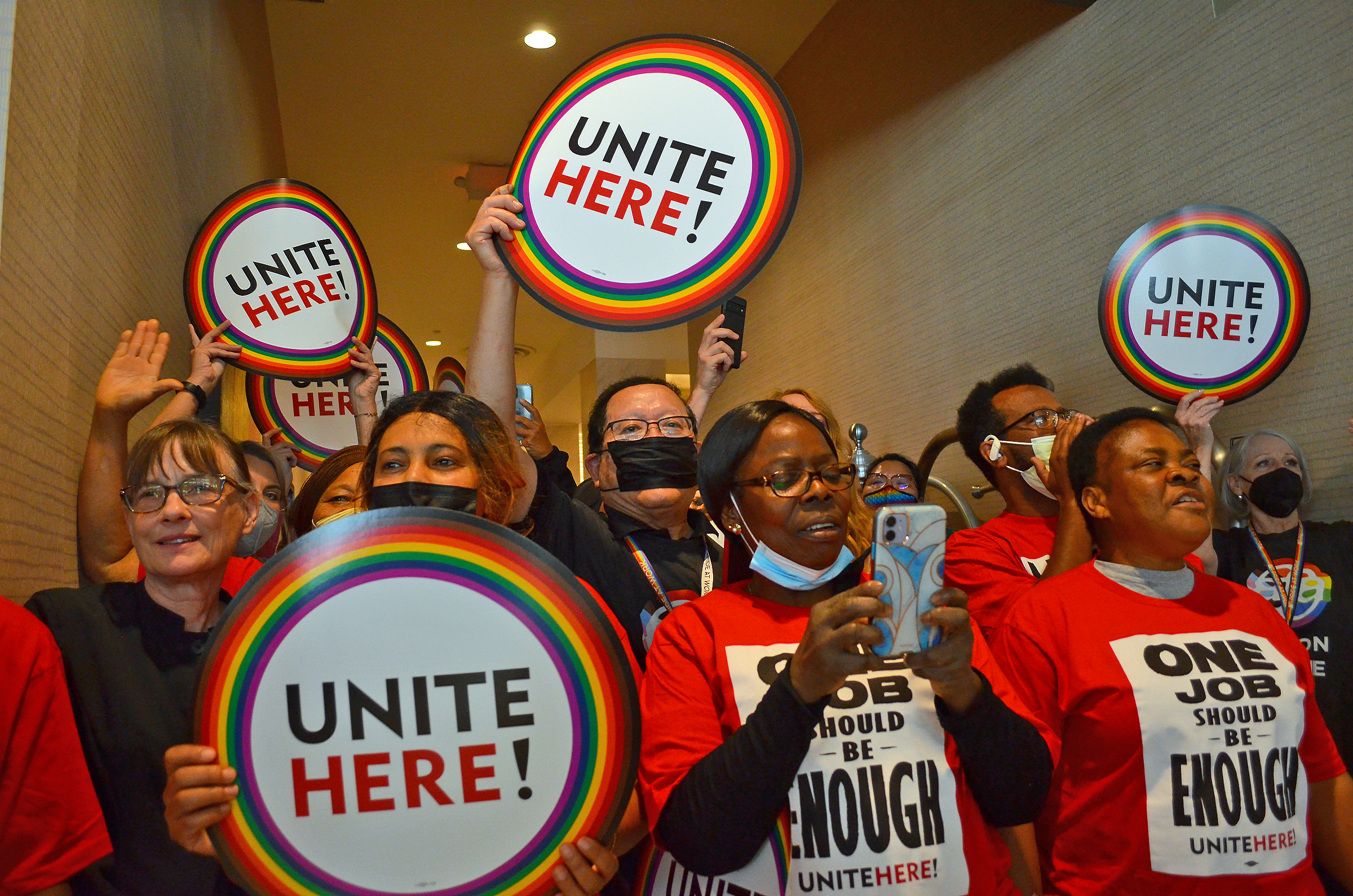 Workers at the Millennium Hotel lead a march from the convention floor into the lobby.
Share
After walking away from workers, Millennium gets heat from convention delegates
|
Share
Housekeepers and other hotel employees took the stage on Day 1 of the AFL-CIO's Pride at Work convention and told delegates that the Millennium Hotel had pulled back tentative agreements with their union two months after booking the convention.
Delegates didn't take the news sitting down.
They marched out of the Millennium ballroom and into the lobby, with hotel staff in the lead, and held a lively rally in their defense. When security guards demanded demonstrators move to the sidewalk outside, they refused, holding the lobby for nearly a half hour.
The action marked a spirited start to the three-day convention that began Aug. 18, bringing together representatives of the AFL-CIO's constituency group for Lesbian, Gay, Bisexual, Transgender and Queer-plus workers.
Christa Sarrack, president of UNITE HERE Local 17, said the situation could have been avoided if the Millennium had honored the agreements it struck with union members in May.
"When the convention contacted us to see if it was OK to have it at this hotel, there was no labor dispute," Sarrack said. "We thought we had a tentative agreement."
Two months later, the hotel sent an "incredibly regressive" settlement agreement for the union to sign. It would have stripped longstanding language around breaks and schedule adjustments for housekeepers.
Local 17, which represents about 45 Millennium employees, has filed charges of unfair labor practices with the National Labor Relations Board, but the show of solidarity will help keep morale high, Sarrack said, as the process plays out.
"Workers don't always get to see the actual support that they have," she said. "So I think this was incredibly meaningful for the workers to see. And to be able to be onstage in a group like this – they're normally in the back of the house and don't interact in this way with the groups – is huge."
Back in the ballroom, delegates to the convention worked their way through an agenda packed with panels, workshops and awards. The group's convention call promised to tackle two big issues: combating the radical right, and gathering allies for that work in advance of the November election.
Speakers included several Minnesota elected officials and labor leaders, including Minnesota AFL-CIO President Bernie Burnham.
The convention also honored AFL-CIO Secretary-Treasurer Fred Redmond and News Guild President Jon Schleuss with Solidarity Awards for championing LGBTQ+ workers.
– PAI Union News Service contributed reporting.
This story first appeared at St. Paul's Union Advocate.