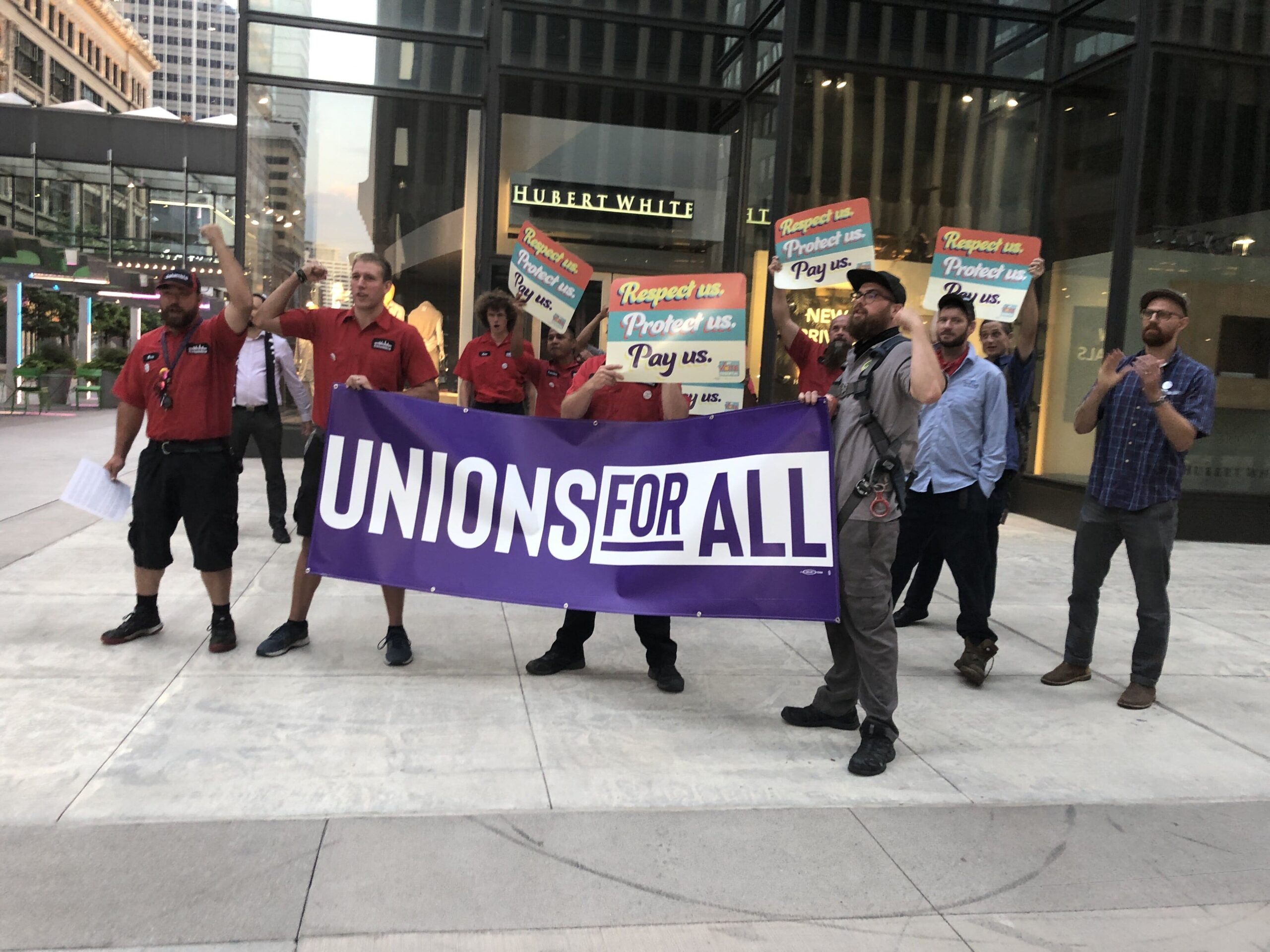 Share
UPDATE: As of Monday Window Cleaners are on Strike
|
Share
Update: On Monday morning high rise window cleaners began their strike
Dotted across the Downtown Minneapolis skyline, high rise window cleaners come to work ready to be hung over the edge of towering buildings to clean.
On Thursday, window cleaners represented by their union SEIU Local 26 held a 6 am press conference in front of the monolithic IBS building.
Clad in their work uniforms, some with harnesses, they shared their story before heading to work.
As the sun layered the streets in color, the workers announced that "an overwhelming majority voted to authorize an Unfair Labor Practice (ULP) strike to stop the employers' unfair labor practices and get a fair settlement that recognizes the sacrifices of essential workers and keeps them safe."
According to the union, the potential ULP strike could begin anytime after the August 15th contract expiration date.
Eric Crone, a window cleaner who works for Columbia Building Services and is a steward and Executive Board member of SEIU Local 26, shared why workers are ready to take this step if necessary:
"If you ask someone on the street how much someone who is up on the buildings gets paid or what level of training they think we get, they always guess higher than what we currently get. It feels like we've been disrespected. We kept the work going but now they can't be bothered to bargain with us in a fair way. We worked through the pandemic and made the companies their money while they got to work from home," said Crone. "We're ready to strike because we've been fighting for years to improve our industry. We're done with delays. If we don't see movement, we could strike at any time following the expiration of our contract on August 15th. We're ready and we won't back down."
The work is dangerous.
In an industry of under 80 total workers statewide, three have died in workplace accidents in the last 15 years. The workers are fighting for a state recognized, fully-funded apprenticeship program to improve training and safety conditions.
One of the speakers was Josh Haynes, a SEIU Local 26 member who works for Final Touch.
"We clean the buildings of some of the wealthiest companies in the country but we may have to strike to get a proper training program and a fair wage," said Haynes. "I'm proud our group is standing up for safe jobs. We don't want to strike, but if we have to I know we're united and will keep fighting until we win what we deserve. I hope our companies understand that it's time they step up and bargain fairly and do what is right for their employees."
During the pandemic, this group of workers was also deployed to sterilize contaminated areas after COVID cases were reported in office towers. Workers reported that they were not given basic equipment such as masks. They also reported that half of them eventually got COVID.
The three cleaning companies, Columbia Building Services, Apex North LLC and Marsden Services, did not return requests for comment.