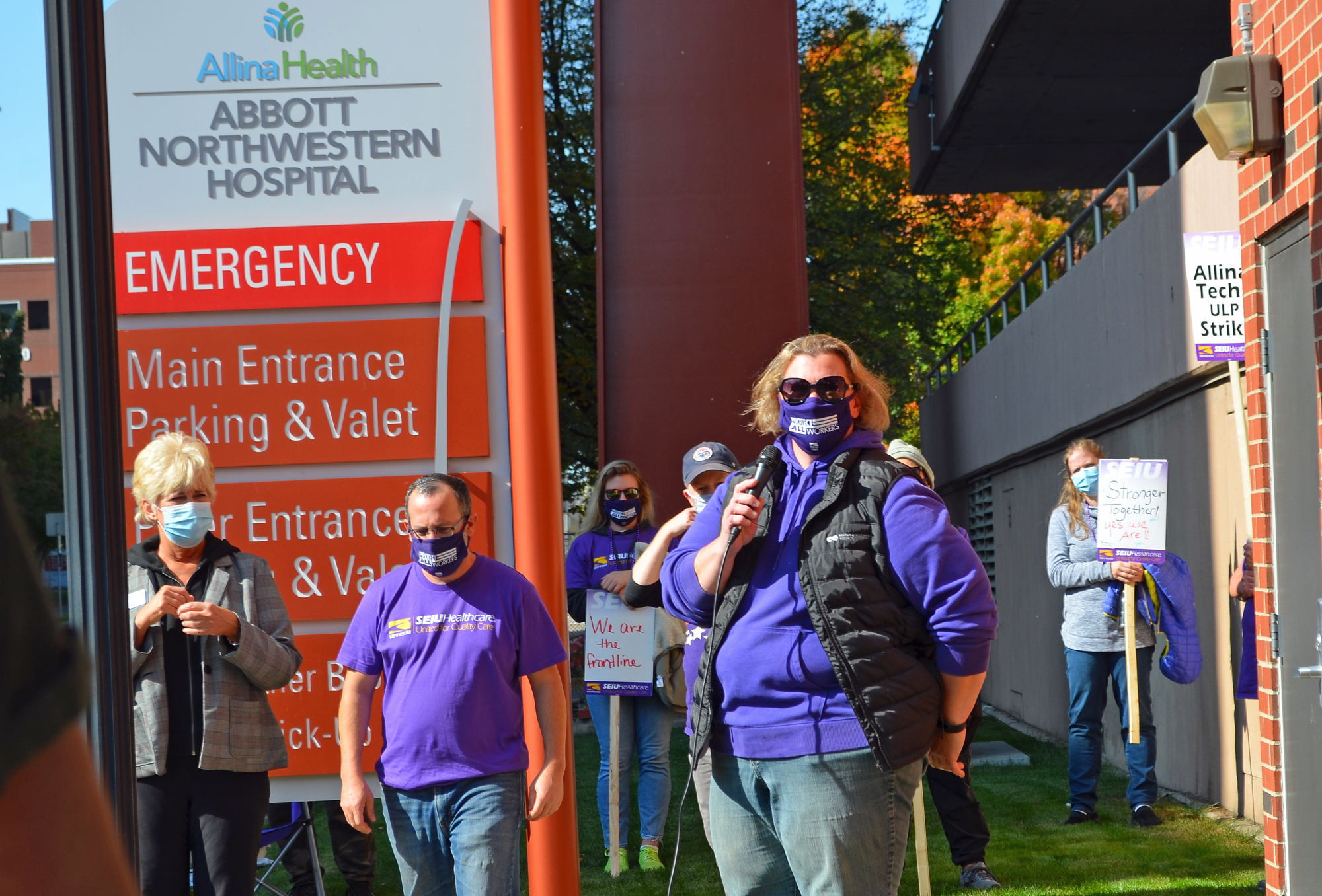 Judy Grack, a CT tech, speaks at a rally on the picket line outside Abbott Northwestern.
Share
Techs at two Allina hospitals begin 48-hour strike for health and safety protections
|
Share
The "eyes of the hospital" are on strike this week at Allina Health facilities in Minneapolis and Shakopee, as radiology and other technicians step up their fight for the same benefits and protections from COVID-19 as other hospital employees.
And at a rally outside Abbott Northwestern today, several of those employees rallied to the technicians' cause.
"We all take care of patients. That makes us one and the same," Minnesota Nurses Association President Mary Turner told striking technicians, members of SEIU Healthcare Minnesota. "But we're also union members, and that makes us family."
About 120 technicians at Abbott Northwestern and 80 in related jobs at St. Francis Hospital in Shakopee have been in in negotiations with Allina since May. Several issues are on the bargaining table, but workers say equitable treatment is their top priority, particularly during the pandemic.
Judy Grack, a CT tech at Abbott Northwestern, has missed two stretches of work this year due to COVID-19 exposure. But the second time she entered quarantine, Allina told her she would have to dip into her paid time off to cover her wages and benefits.
That's not how it works for some other health care workers at the hospital, and it's not sitting well with Grack and fellow technicians.
"Allina needs to take care of all of its employees," technician Molly Wrobleski said. "Our community deserves better."
The double-standard didn't sit well with elected officials at the rally either. State Sen. John Hoffman (D-Champlin) said he's growing tired of large, not-for-profit health care systems like Allina treating its employees like numbers, not people.
"This is getting old, isn't it, folks?" Hoffman asked. "Allina, you need to get back to the bargaining table and listen to the workers. And that means when they're in quarantine, you pick up the cost."
Picket lines outside both hospitals will be up from 6 a.m. to 6 p.m. today and tomorrow during the unfair-labor-practice strike. SEIU Healthcare Minnesota plans a similar rally tomorrow in Shakopee.
The two sides last met Wednesday, and another round of talks is scheduled later this month.