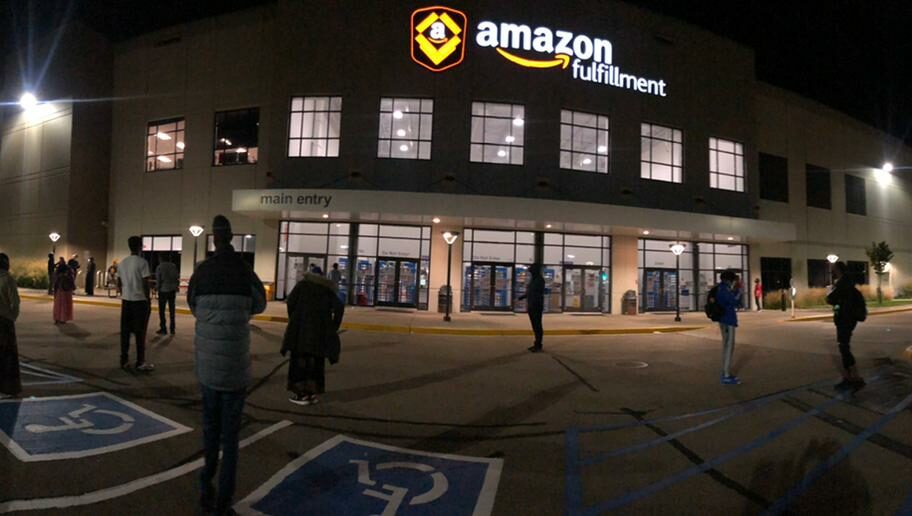 Share
Thursday Night Shakopee Amazon Workers Walked Out
|
Share
35 Workers at the MSP1 fulfillment center walked off the job late Thursday night after Farhiyo Warsame was fired at the facility. Management claimed Warasame violated their "time off task" rules. Warsame had previously raised concerns about a lack of adequate safety protections.
Photos and videos of the walkout can be found here.
Workers at MSP1 and around the country have voiced growing fears that Amazon is using its "time off task" policies to target and retaliate against workers for raising safety concerns. Amazon uses "time off task" to enforce productivity rates.
The corporation issues warnings if workers take "too much" time away from tasks like packing and scanning boxes – for example, to wash their hands or sanitize their workstation during the pandemic. Prior reporting has found that Amazon often fires workers after several warnings, though the corporation's attorneys told a judge in New York that such enforcement had been suspended in light of public health concerns associated with COVID-19.
Another worker at the MSP1 facility, Hibaq Mohamed, began receiving a series of time off task violations early in the summer, including taking breaks for safety precautions such as washing her hands. The warnings followed years of organizing her co-workers to win better working conditions at the facility. After she received a final warning that put her on the brink of losing her job, her story received national attention, with lawmakers including Rep. Ilhan Omar supporting her right to speak up.
Amazon's relentless quest to speed up productivity – or, in Amazon lingo, "rate" – has also tracked with rising injury rates, as reported in a comprehensive Reveal News investigation this week.
The report showed that injury rates spike during Prime Day and Cyber Monday, when Amazon's productivity demands are highest.
The walkout is at least the eighth led by Amazon workers since the start of the pandemic in March, and the second led by workers at MSP1.
In late April, more than 50 workers at the facility walked off the job after the firing of multiple workers and the disclosure of multiple positive cases.
Workers at the MSP1 facility have raised concerns about Amazon's handling of the pandemic since March. In mid-April, workers filed a complaint with the Occupational Health and Safety Administration demanding that Amazon close the facility after reports that a worker at the facility had been told by a doctor that they had COVID-19. Shortly after, Amazon fired two workers who had been outspoken about the risks workers in the facility faced. One of the workers, Bashir Mohamed, had been expressing concerns about the seeming impossibility of socially distancing in the facility.
Yesterday Amazon released data showing that 19,816 employees have tested positive or been presumed positive for COVID-19 since the pandemic began.
Even before the COVID-19 epidemic hit, the MSP1 facility had been a hotspot for Amazon worker organizing. In 2018, workers at the facility, which opened in 2016 and has more than 1,000 employees, became the first to force Amazon to improve working conditions in response to their concerns. Workers have also led multiple strikes around working conditions at the facility, around a variety of issues including unrealistic productivity rates, especially during Ramadan when many workers are fasting, and lack of communication in multiple languages.