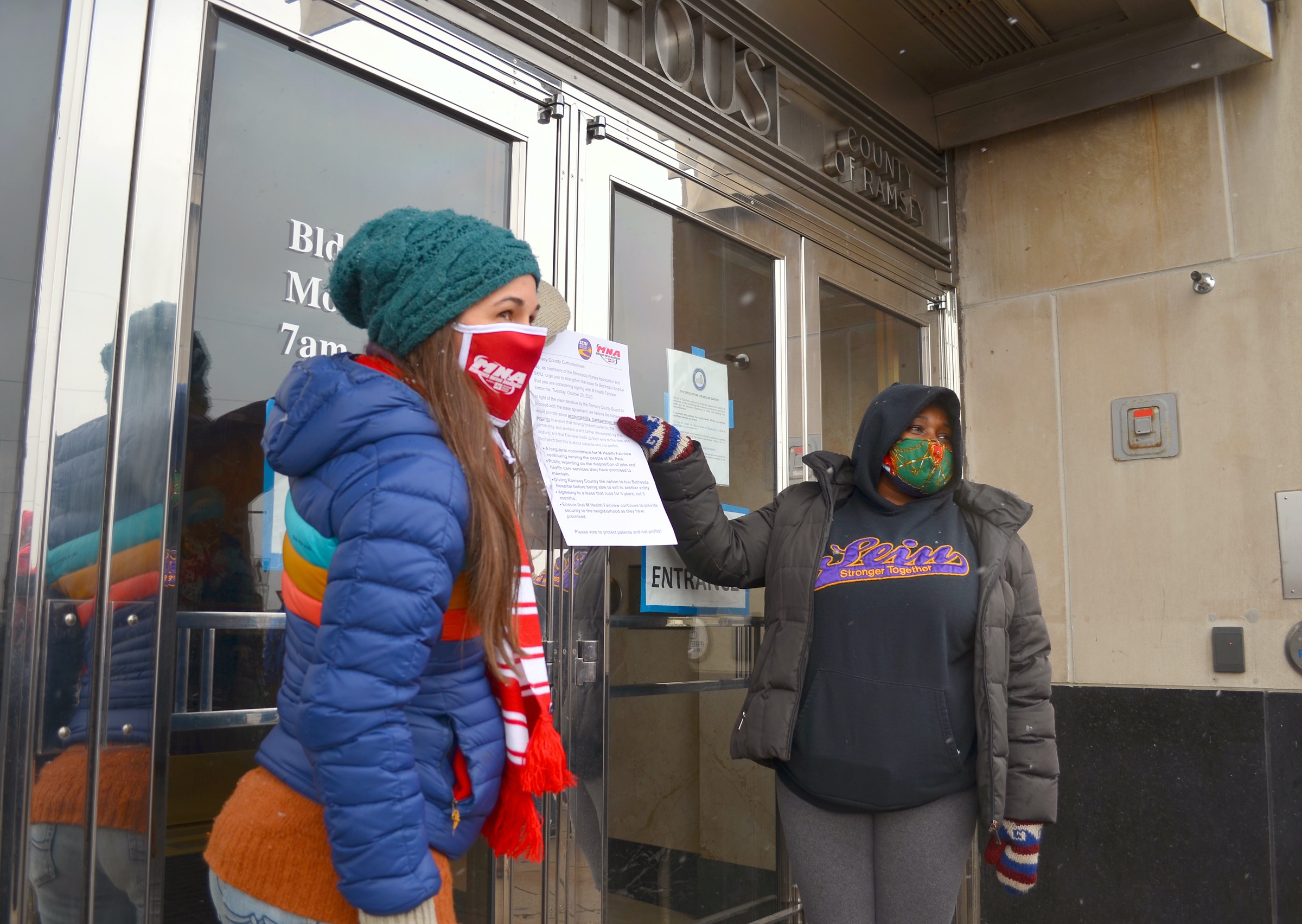 MNA member Melanie Timpano (L) and SEIU Healthcare Minnesota member Cleveland Donazal tape a list of demands to the Ramsey County Court House door, warning county board member to proceed with caution as they partner with M Health Fairview on using Bethesda Hospital as a temporary shelter for people experiencing homelessness
Share
As hospital cuts loom in St. Paul, workers demand accountability, engagement from M Health Fairview
|
Share
With hundreds of jobs at stake, union nurses and health care workers are sounding the alarm on M Health Fairview's plan to slash services at two St. Paul hospitals and close 16 clinics across the region.
The health system announced plans this month to close Bethesda Hospital, the only COVID-19 specialty hospital in the area, and reduce services at St. Joseph's. Workers accused management of using the COVID-19 crisis as cover to justify eliminating services on which St. Paul community members rely.
"It is unthinkable that an urban center like St. Paul stands to lose so many patient services at once," said Rose Roach, executive director of the Minnesota Nurses Association.
The announcement came just two weeks after Children's Hospital announced plans to limit services on its St. Paul campus. Roach noted that, combined, the announcements threaten patients' access to "operating rooms, pediatric ICUs, cardiac, epilepsy, chemical dependency, and diabetic services."
"The loss of resources will again force patients, especially among communities of color, to have to travel to health care, instead of finding it available to them," she added. "This is not health equity. This is tragic."
Jamie Gulley, president of SEIU Healthcare Minnesota, with 200 members at Bethesda and St. Joseph's, called the likely damage to health care access in St. Paul "insurmountable."
"This move is incredibly shortsighted, and we know it will have long-lasting effects to both healthcare workers and patients," he said. "Our state cannot afford to have this plan move forward without a much deeper analysis on the impact to our community."
The unions planned to lobby state and local lawmakers, including Gov. Tim Walz, to put the rapidly approaching closures on ice until community members have an opportunity to provide more feedback.
M Health Fairview this week finalized an agreement to lease Bethesda to Ramsey County as a transitional shelter for people experiencing homelessness. But unions urged county officials to push for transparency and accountability in their agreement with the health care system.
"We support any real effort to provide housing for the homeless," MNA member Melissa Kadrmas, a registered nurse at St. Joseph's, said. "However, we don't trust M Health Fairview, and we worry that their ill-thought-out plan is to provide them cover for closing a facility, laying-off nurses and eliminating key services. We are interested in seeing long term results, not just a bandage."
The Ramsey County Board of Commissioners approved the Bethesda lease during a meeting Monday, after union members marched from the hospital to City Hall with a list of demands, many focused on meeting health care needs in the urban core.
Speaking during an outdoor press conference, Roach called for a statewide moratorium on health care cuts during the pandemic, and said pitting a health care crisis against a housing crisis creates a "false choice."
Workers also had a warning for county commissioners: M Health Fairview "has not been a responsible employer or a trustworthy community partner," Roach said. Cleveland Donazal, a lead storekeeper at Bethesda and SEIU member, added: "We want M Health Fairview to be held accountable."
Health care workers from St. Joseph's at the press conference called for deeper analysis of what M Health Fairview's cuts will mean for people seeking care in St. Paul. That means doing more that just paying "lip service" to community engagement, St. Joseph's nurse Melanie Timpano said.
"These closures will have an impact metro wide at a time when we already don't have enough beds, when we already don't have enough staff and at a time when nurses are exhausted," she said.